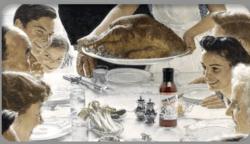 Washington, DC (PRWEB) November 22, 2011
Mayor Pat Carson of Turkey, Texas refuses offers to temporarily change name to "Tofurky, TX" or "Barbecue, TX," and instead secures deal from Pork Barrel BBQ to change its name to "Tofurky Barrel BBQ" for one day if PETA agrees to match Pork Barrel BBQ's $1,000 donation to three Turkey, TX charities.
"With the Thanksgiving Holiday approaching, it's a great time to reflect and be thankful for all of our blessings. In the spirit of giving, Pork Barrel BBQ has generously offered to help our local charitable organizations and at the same time challenge PETA to match their contributions," said Mayor Carson. "If PETA agrees to meet or exceed Pork Barrel BBQ's $1000 donation, Pork Barrel BBQ will change their name to 'Tofurky Barrel BBQ' for one day. This challenge is in the true giving spirit of the season and I hope that PETA will step-up to the challenge." Mayor Carson continued, "Our community has extremely limited sources of income and enormous needs and we appreciate the efforts of Pork Barrel BBQ to include us in their charitable giving."
On Friday, in response to the open letter from PETA (http://www.peta.org) Executive Vice President Tracy Reiman calling on Turkey, Texas to change its name to Tofurky, Texas, co-founders of Pork Barrel BBQ, the nation's fastest-growing barbecue sauce company, presented Pat Carson, the Mayor of Turkey, Texas with an appetizing offer to temporarily change the town's name to "Barbecue, Texas." Mayor Carson has refused both requests to temporarily changing the name of the town. (See Fox News clip here: http://video.foxnews.com/v/1285009350001/will-texas-town-change-its-name-to-tofurkey)
However, Mayor Carson struck a deal with Pork Barrel BBQ co-founders Heath Hall and Brett Thompson, widely recognized for creating the award-winning all-American BBQ sauce and spice rub company and their reality TV show appearances on ABC's Shark Tank, to change the name of Pork Barrel BBQ to "Tofurky Barrel BBQ" for a day if PETA agrees to match or exceed the company's $1,000 donation, split evenly between the following three local Turkey, Texas charities:
1) Bob Wills Foundation (providing scholarships to local students)
2) Turkey Restoration Project (restoring Turkey, Texas school)
3) Turkey All Volunteer Ambulance and Fire Department
"As we approach Thanksgiving the great people of Texas have a lot of things to be thankful for, including access to some of the best slow smoked barbecue in the world," added Hall. "If barbecue can claim to have a power, it is the power to bring people together and we hope our efforts will do just that by bringing Pork Barrel BBQ and PETA together to raise funds for this great Texas town and worthy charities."
"It's not that we have a beef with PETA," said Thompson. "We like BBQ veggies as much as the next person. We hope barbecue lovers and vegans alike will join us in pledging to support the people of Turkey, Texas via donations to these charities."
About Pork Barrel BBQ
Pork Barrel BBQ was founded in December 2008 during the peak of the economic crisis to prove that a company not owned or operated by the federal government could succeed, and that if you had a good idea, it was still possible to grab a piece of the American Dream. Pork Barrel BBQ founders, Heath Hall and Brett Thompson, ran the company out of the basement of their houses, selling their award winning BBQ products one bottle at a time. In less than one year, their Pork Barrel BBQ Sauces and Spice Rub were carried in over 1,000 stores in 40 states. Throughout their journey, they have stayed true to their mission – to unite the nation through the great tradition of BBQ, and bring bipartisan flavor to your next meal. The Pork Barrel BBQ Competition BBQ Team entered its first contest, The Safeway National Capital Barbecue Battle, in June 2009, and walked away with two trophies – Second Place in the "Nations Best BBQ Sauce Contest" and Fourth Place for their pulled pork in the Memphis In May portion of the contest. Since then, the team has won multiple awards, including the 2011 Perdue National Chicken Championship, the Safeway National Capital Barbecue Battle in 2011, the "Chinet People's Choice" award for best BBQ sauce in 2010 and other notable Memphis in May and Kansas City Barbecue Society BBQ competition accolades as well as having their Pork Barrel BBQ Original BBQ Sauce named Best Sauce in America and one of "The 125 Best Foods for Men" by Men's Health Magazine in November 2010. For more information, visit http://www.PorkBarrelBBQ.com or follow Pork Barrel BBQ on Facebook and Twitter (@porkbarrelbbq).
# # #