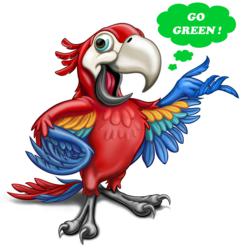 Pet products made from sustainable fibers are healthy green choices
Kelowna, British Columbia, Canada (PRWEB) April 27, 2012
Earth Day provides everyone with an excellent opportunity to reflect upon their impact on the Earth. An important part of our mission at PetCentricity.com is to promote and facilitate responsible and loving pet ownership. Luckily we can easily find ways to be a Green pet owner and often save money at the same time. Here at PetCentricity.com we've given a lot of thought to Going Green and we have compiled a list of Going Green Pet Tips that are both economical and easy to implement.
Neuter or Spay: If you haven't already, neuter or spay your dog or cat. This will not only prevent the birth of unwanted animals but will also reduce the number of animals that have to be euthanized. Each year, 3 to 4 million unwanted pets are euthanized in the USA alone. If your budget is tight, many humane organizations and animal hospitals offer low cost spaying and neutering. Neutered pets often live longer and avoid costly health problems, too. The initial cost may very well be balanced out by avoiding later veterinary bills for pregnancies and illnesses.
Adopt A Pet: If you are thinking about acquiring a new or additional pet, please think seriously about adopting from an animal shelter or humane society near you. Online organizations such as Petfinder can also match you with a wonderful companion. This is one of the best ways to go Green. Not only will you probably save an animal's life, but you will also be helping conserve the rescue organizations limited resources.
Buy Green Pet Accessories: Buying sustainable, Earth-Friendly pet products is getting easier and cheaper to do. What was once thought of as a high-end luxury is now becoming more and more mainstream and affordable. Everything from pet beds to collars and leashes are available made from Earth-friendly materials. They are usually from good quality materials that are longer lasting and safer for your pet than cheaply made mass-produced products. Toys and accessories made from recycled materials are commonplace now. Pet products made from sustainable fibers (such as herbicide and pesticide-free hemp or cotton) are healthy, green choices and are now widely available.
Green Cleaning Products: As all pet lovers know, if you have a pet, sooner or later you are going to need cleaning products. Usually sooner. Luckily, Earth-friendly cleaning products are now widely available and economically priced. They may even be cheaper than brand-name cleaning products because the Green products are often sold in concentrated format and the cost per use is lower. Not to mention the fact that they are healthier- one less vet bill can pay for a lot of green cleaning products.
Earth-Friendly Pet Toys: Why not recycle and make your own pet toys? Cats love to play with bits of ribbon tied to the cardboard center of a toilet roll or a crumpled up piece of aluminum foil with a bell inside. Dogs get a lot of fun out of old tennis balls. My dog somehow peels the fuzz off them! A large plastic pop bottle with a couple of pieces of dry dog food inside will keep a dog noisily amused for hours.
Keep Your Cat Indoors: Make your cat an indoor cat. Not only is this much healthier for the cat (fewer injuries, diseases and accidental deaths) but the local bird population will love you. According to the U.S. Fish and Wildlife Service, the number of birds killed annually by cats in Wisconsin alone is 39 million.
Poop Composting: On the surface, this sounds like the kind of Green idea that will turn you green. But you've got to deal with poop disposal one way or another and the most Earth-Friendly way so far is to compost it. Not in your regular compost heap, because you don't want to introduce E. coli to your vegetables, but in a purpose made composter which acts like a septic tank. If you have room, you can improvise by burying a perforated garbage can in a spot well away from your vegetable garden and where you won't fall into it!
Earth-Friendly Pet Food: Simply buy the best, highest quality pet food you can afford. Many cheap pet foods utilize meat by-products from diseased animals. Nutrition is the most important factor in your pet's health. Skimping in this area can potentially cost you a fortune in vet's bills. Not to mention the worry and mental anguish that accompany an ailing pet. There are many healthy, pet-friendly recipes for pet treats readily available on the internet. I've made several different recipes for my dogs and even my fussier dog loved them.
About PetCentricity.com (http://www.petcentricity.com and http://www.petcentricity.ca):
PetCentricity Social Network Inc. was founded in 2011 and is headquartered in Kelowna, British Columbia, Canada. PetCentricity is an online social network and virtual world for pets. The company provides a free venue for pets, pet lovers, and pet-related businesses and organizations to interact and communicate for their own mutual benefit. PetCentricity.com contains informative pet-related articles, columns and blogs, and incorporates a comprehensive directory, listing a vast number of pet-related products and service providers.