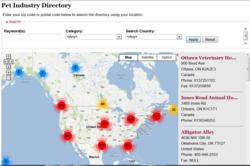 Our goal, and it's a lofty one, is to include every pet related business across the globe, in our directory free of charge
Canada (PRWEB) July 19, 2012
Small business owners know how difficult it is to get their business found locally on the Internet. Large phone directories offer paid placement programs; search engines offer pay per click programs, all of which can be expensive and not the easiest solution for your average business to manage.
Well, if you own a pet related business the job of getting found just got a whole lot easier, and it's free.
PetCentricity has a vision to create a virtual world for pets, not just a social network, but a place to find all businesses and services, today, petCentricity launched their free directory listing service.
"Our goal, and it's a lofty one, is to include every pet related business across the globe, in our directory free of charge", said Scott Murray president of petCentricity Social Network Inc. "We believe that a central 'pet business directory' will be extremely helpful to all those people looking for pet products and services alike." "Imagine, going to one place, entering your postal or zip code (or simply clicking on the search map) and being able to find all pet related businesses and services nearby. If you have a pet business, this is THE place to be"
"When a petCentricity member creates their profile they will automatically have access to local pet businesses online and in their community", said Murray.
PetCentricity's directory continues to grow with more pet related businesses added daily.
PetCentricity enables every pet business owner to take control of their directory listing, an existing listing, or to add their own pet business to the ever-expanding directory. Think what a link from a relevant Social site like petCentricity will mean to your business website.
"The directory categories include: Veterinarians, pet groomers, pet photographers, pet stores, dog walkers, breeders, kennels, pet sitting services, pet insurance, rescues and shelters as well as Pet Clubs and Associations to name only a few."
The beauty of the Directory is how it has been designed to bring the local business to the forefront and place them in front of their potential customers; pet members on petCentricity.com. Directory searchers can quickly narrow their search through postal or zip code or by simply clicking on the map provided.
About petCentricity.com (http://www.petcentricity.com, http://www.petcentricity.ca, http://www.vetstoyourpets.com, http://www.madmaxrants.com)
PetCentricity Social Network Inc. was founded in 2011 and is headquartered in Kelowna, British Columbia, Canada. PetCentricity is an online social network and virtual world for pets. The company provides a free venue for pets, pet lovers, and pet-related businesses and organizations to interact and communicate for their own mutual benefit. PetCentricity.com contains informative pet-related articles, columns and blogs, and incorporates a comprehensive directory, listing a vast number of pet-related products and service providers.