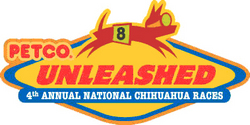 (Vocus) March 20, 2008
On your bark, get set, go! Thousands of pint-sized racers with larger-than-life personalities are ready to race their tails off during the 4th Annual PETCO Unleashed Chihuahua races. Fifteen regional races will be held in cities across the country on three consecutive weekends starting April 19. Chihuahua teams can now secure a spot at one of the races by pre-registering at PETCO.com/PETCOUnleashed.
Accompanied by their human family members, the featherweight competitors will race in heats of 10 along a 1/18th furlong (35-foot-long) race track. Regional winners will be awarded a trip to San Diego to race for the coveted title of America's Fastest Chihuahua in front of cheering crowds between innings of a major league baseball game at PETCO Park, home to the San Diego Padres, on August 31.
The national winner will join the ranks of Maddy, Tiger and Chalupa as PETCO Unleashed Champion and America's fastest of the tiniest canines.
Regional races will be held on April 19 in Sacramento, Anaheim, Calif., Houston, Phoenix and Orlando; on April 26 in Los Angeles, Chicago, Dallas, Washington, D.C., and Seattle; and on May 3 in San Francisco, Boston, Denver, San Diego and New York.
PETCO, and the event's presenting sponsor Royal Canin, organize the races to celebrate the world's smallest breed of dog and to bring attention to millions of adoptable pets waiting for loving homes across the country.
To find locations and to pre-register for the races, visit PETCO.com/PETCOUnleashed. For latest news about PETCO, visit http://www.petconews.com.
About PETCO
PETCO is a privately held specialty retailer that provides products, services and advice that make it easier for our customers to be great pet parents. We operate more than 900 stores in 49 states and the District of Columbia, as well as a leading pet products and information destination at http://www.PETCO.com. Our nonprofit organization, The PETCO Foundation, has raised more than $41 million since its inception in 1999 to help promote and improve the welfare of companion animals. In conjunction with the foundation, we work with and support nearly 5,000 local animal welfare groups across the country to help find homes for more than 200,000 adoptable animals every year.
Contacts:
Marta Karpinska-Dean, PETCO, 858.444.5575, martak @ petco.com
Rachel McLennan, PETCO, 858.453.7845 Ext 2558, rachelmc @ petco.com
###