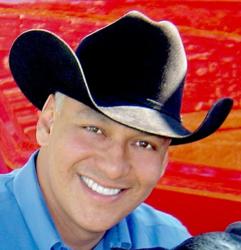 My father was the first musical influence that I had and he introduced me to all of his favorites, which became the foundation for my own music
Denver, CO (PRWEB) June 27, 2013
Besides Pete Martinez's fan base in the US, the Casper, Wyoming native is becoming an international ambassador for his uniquely American style of music. He has concerts planned in Italy this coming August and drew enthusiastic audiences last October in Buenos Aires and Córdoba, Argentina.
Pete comes to his music naturally. His father was a part-time musician and gave Pete his first guitar when he was only four years old. "My father was the first musical influence that I had and he introduced me to all of his favorites, which became the foundation for my own music," Pete recalls.
From the outset, Pete showed a remarkable ability to play any song he heard. Soon, he was playing along with his dad and his brother Anthony. He also developed a deep respect the cowboys he knew and the horses that were such a big part of their lives. A former rodeo bull rider and accomplished horseman himself, Martinez's love and respect for the stately creatures figures prominently in his music. His first solo composition, "The Horse," is featured as the theme song for a documentary aired by Rocky Mountain PBS about the Colorado State University Equine Research Program.
"The horse figures prominently in cultures across the globe," Martinez says. "Throw in the romance of the American West and it's easy to see why my music finds fans around the world."
Pete's lively, upbeat rendition of the classic "I Hear You Knockin'" swept the dance world in 2004 when it was choreographed as a line dance and recorded on DVD. It was an immediate hit in far-flung locales from Asia to Europe and Latin America.
Interviewed as he was about to board a plane for Sweden at Denver International Airport, Martinez said, "American country music has become wildly popular all across Europe. Sweden even has some local C&W groups that have hits of their own. I'm excited about bringing my own style of 'cowboy music' to a new audience."
Casper, Wyoming native Pete Martinez began his singing career in the Rocky Mountains, expanding to record in Nashville and to perform for audiences across the globe, including a U.S President. Martinez's first two albums, Changes and I Would for You include the hit dance single "I Hear You Knockin'" as well as other notable recordings. Coming from agricultural origins, Martinez continues to sing and ride the range with cowboys throughout the West. More about Pete Martinez can be found at on his web site, PETEMARTINEZUSA.com/news/bio.
Contact Pete Martinez at pete(at)petemartinezusa(dot)com or 720.244.5032.