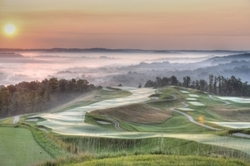 As we began the journey some four and a half years ago, we never imagined that that golf at French Lick would become so highly acclaimed, and recognized both regionally and nationally, in such a short timeframe.
French Lick, IN (Vocus) December 8, 2009
French Lick Resort , the award winning resort destination located in southern Indiana, has earned its most accomplished golf honor to date, the new Pete Dye course has been selected "Best New Public Course" in the country by Golf Digest.
The leading golf publication's annual review of America's Best New Courses appears in the January 2010 issue and covers the best new courses in the public, private, Canadian, and remodeled categories. A panel of 950 male and female golfers conducts the annual best new survey by rating the courses based on a shot values, design variety, resistance to scoring, memorability, and aesthetics.
The Pete Dye course edged out some of America's best new golf courses including, Palouse Ridge at Washington State University; Tetherow Golf Club, Bend, Ore.; Pound Ridge Golf Club, New York; and Blue Top Ridge Golf Club in Iowa; which rounded out the top five.
"As we began the journey some four and a half years ago, we never imagined that that golf at French Lick would become so highly acclaimed, and recognized both regionally and nationally, in such a short timeframe," said Dave Harner, French Lick Resort's director of golf. "Great things happen when you combine the efforts of three visionaries - Bill Cook, Steve Ferguson, and Pete Dye."
Ron Whitten, the magazine's senior editor of architecture, described the Dye course as, "a stark, treeless, wind-swept concoction by octogenarian Pete Dye, the Gandolf wizard of course design."
The course, regarded as one of the most breathtaking and exciting 18 holes of golf in the country, was carefully carved on a dramatic hilltop offering a variety of elevation changes, rugged and dramatic terrain, narrow fairways and vintage Pete Dye characteristics. There are spectacular views from every hole, some that stretch for over 40 miles.
Dye said he was tickled to hear of the award, the fifth time one of his designs has won that prestigious honor. He said designing the course on such a severe, hilly landscape was challenging but a lot of fun.
"I made more than 140 trips there and I walked that course 40 to 50 times," he said. "As I built the golf course I tried to get the tees, the fairways, and the greens in position that they have these long views over the valleys and hills. A lot of southern Indiana is natural forest, a lot of it is state owned, so you can see for miles. The ambience of the course is the look, the vistas from all the different tees, greens, and fairways."
Complementing the Dye design is the property's historic Taggart mansion, dramatically restored, to serve as the clubhouse offering sweeping views of the course from its hilltop location. From the mansion the course spreads out 50 feet below, "routed like a four-pointed star, with squiggly fairways dotted by typical Pete Dye bunkers," Whitten said in his review.
Although the course stretches out to a whopping 8,102 yards from the championship tees, it is designed for all levels of play with the forward tees set at 5,100 yards. Whitten said he was also impressed by how easy it was to walk the layout, especially from the regular tees at 6,115 yards. Each tee is located next to the preceding green.
The course is already on the national golf radar. In 2010 it will be the site of the PGA of America's Professional National Championship. The resort predicts this will be the first of several high-profile professional events it will host on the Dye layout in the future.
About French Lick Resort
French Lick Resort is a $500 million historic restoration and casino development project that includes the West Baden Springs Hotel, French Lick Springs Hotel and the new French Lick Casino. This premier resort and casino destination in Southern Indiana features 689 guest rooms and suites; a 42,000-square-foot, single-level casino; 45 holes of golf, including the fully restored 1917-designed Donald Ross Course at French Lick and the new, 18-hole Pete Dye Course at French Lick; two full-service spas with a combined 36 treatment rooms totaling 42,000 square feet; meeting and event space totaling 115,000 square feet and an array of dining and entertainment options. For more information or to book a stay, please visit http://www.frenchlick.com or call our reservation specialists at (888) 936-9360.
Media Contacts:
French Lick Resort
Dyan Welsh Duncan
(812) 936-5926
Fusion Media Strategies
Kevin Frisch
(989) 614-0241
# # #