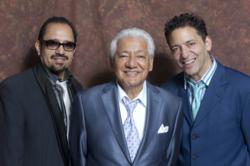 What a shame that all young and inspiring Latin Jazz artists and their music will not be considered worthy of an award.
~Pete Escovedo
Santa Clara, CA (PRWEB) February 27, 2012
Santa Clara University School of Law to host a concert to benefit the Black Law Students Association (BLSA) / La Raza Law Students Association Scholarship Fund with the Pete Escovedo Latin Jazz Orchestra, featuring Juan Escovedo & Peter Michael Escovedo: Saturday, March 24, 2012, 7:00pm - 9:00pm, $35, Locatelli Center, Santa Clara University, 500 El Camino Real, Santa Clara, California, 95053. For tickets and more information: http://law.scu.edu/admissions/events.cfm
Excelling In The Face Of Adversity:
Legendary percussionist Pete Escovedo is an artist who broke down the barriers between Smooth Jazz, Salsa, Latin Jazz and contemporary music. His name has been synonymous with great jazz in the music industry for more than 50 years. In 1989, Pete garnered a GRAMMY nomination for Mister E, and was hopeful that the first recorded E Family CD, Now & Forever (Waterfront Entertainment Group/2011), would be nominated. However, in 2011, the category of Latin Jazz and 30 other GRAMMY award categories were removed from the ballot. Pete believes in keeping the Latin Jazz tradition alive and continues to tour worldwide with the Escovedo family. His strong faith-inspired ethics and devotion to social justice parallel that of Santa Clara University School of Law.
"I am not only opposed, but also ashamed that a so-called Board of Individuals who are supposed to be Experienced Music Experts are even considering omitting the Latin Jazz Category from the Grammy Awards. This is a slap in the face to all Latin Jazz Artists who have contributed some of the greatest, most interesting, and inspiring music ever recorded. The incredible talents of DIZZY GILLESPIE, MACHITO, TITO PUENTE, EDDIE PALMIERI, RAY BARRETTO, ARTURO SANDOVAL, CAL TJADER, CHICO O'FARRILL, CHUCHO VALDES, and so many other Latin Jazz artists have made an enormous contribution of great music for all of us to follow. What a shame that all young and inspiring Latin Jazz artists and their music will not be considered worthy of an award.
"I was fortunate enough to be nominated in 1989 for my recording entitled "Mister E." That nomination inspired me to work harder at my profession – to reach for the ultimate goal – A GRAMMY – which at some point in my life I hope to achieve. Please keep this award in its proper place. Latin Jazz is music for all Races, Colors and Creeds. It is music for all to enjoy, and is more than worthy of an award for the contribution it has made in the music industry." ~Pete Escovedo (June 2011)
Building Bridges / Strengthening Relationships:
Pete and Juanita Escovedo met in high school, and have been married for 55 years. Of Mexican and Louisiana Creole backgrounds, they strongly believe in "family first" and "service to others." While "Latin Jazz" is absent from the GRAMMY ballot, Pete Escovedo and his family continue to educate and empower through live performances and workshops. It is both an honor and a blessing for the Pete Escovedo Latin Jazz Orchestra, featuring Juan Escovedo and Peter Michael Escovedo to support the BLSA/La Raza Law Students Associations Scholarship Fund.
"The Black Law Students Association chapter at Santa Clara Law is thankful for the support of the BLSA/La Raza Scholarship Fund, which will provide an opportunity for students who excel in their journey to become successful lawyers and judges. The concert, featuring the current innovations of African-American and Latino music, is a fitting event to raise money for students who strive for professional excellence and are resources for other people who continue to address the underrepresentation of African-Americans in law school, in the legal profession, and on the bench."
~Sherrett O. Walker, Santa Clara University School of Law, Co- President, Black Law Students Association
"La Raza promotes the growth of law students with by inviting them to events that highlight Latino heritages.  The scholarship will help this larger mission.  Similarly, the Pete Escovedo concert will help this mission and is a great event for Santa Clara University and the larger community."  
~Ralph Robles Jr., Santa Clara University School of Law, President, La Raza Law Students Association
About Santa Clara University:
Santa Clara University, a comprehensive Jesuit, Catholic university located in California's Silicon Valley, offers its more than 8,000 students rigorous undergraduate curricula in arts and sciences, business, and engineering, plus master's, Ph.D., and law degrees. Distinguished nationally by the fourth-highest graduation rate among all U.S. master's universities, California's oldest operating higher-education institution demonstrates faith-inspired values of ethics and social justice.
Santa Clara Law Mission Statement:
Santa Clara University School of Law will educate its students to meet the challenges of a legal profession and society that are increasingly global, technologically sophisticated, and diverse. In fulfilling this vision, the Law School will educate its students to become lawyers of competence, conscience, and compassion. The Law School will also advance knowledge and justice through scholarship and service.
BLSA Mission Statement: We, the Black Law Students Association of Santa Clara University, strive to promote excellence within the legal community. Our goal is to aid in the diversification of the legal profession and to act as a light post for all students of color. Our mission is to operate as a resource for law students and others who desire to enter the legal profession. Our purpose is to demonstrate that it is possible to excel in the face of adversity and that persistence is the key to success. We will stand by each other through the lessons of law and the lessons of life. Though small in numbers, we will continue to be encouraged, for our strength lies in our unity.
La Raza Mission Statement: The primary focus of the La Raza Law Student Association is to recruit, support and graduate Latino students.  We strive to fulfill these ends by establishing a sense of community among Latino/a students through academic, professional, social, political, and cultural support. We strive to build enduring bridges with our local communities as well as foster lasting relationships with professional organizations. We believe this vision enriches the entire Santa Clara University community.
Media Contact:
Lisa Bautista, JFM Presents, LLC
2340 Powell Street #144
Emeryville, CA 94608
510.967.1109
jfmpresents(at)gmail(dot)com
# # #