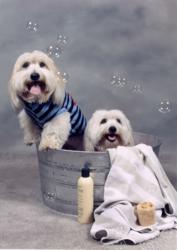 Dry skin on dogs is a huge problem in the summer heat
India (PRWEB) April 21, 2013
Leading online retailer of pet accessories online, Petencare, provides tips for dog lovers to prevent and cure their dogs suffering from dry skin this summer season.
The question for summer time dog owners is what should be done if a dog is suffering from dry skin? Petencare provides the answers by offering tips to cure and prevent dry skin for pets this summer season.
1. Bathe the dog pet as few times as possible, within reason. Use warm water when bathing a dog. Hot water will further dry their skin. Be sure to clean them from the summer elements, but not to over dry their already sensitive skin.
2. Use moisturizing shampoo and conditioner made specifically for dogs. There is a variety of shampoo selections for dogs; be sure to use a product that will not dry their skin even further. Herbal dog shampoos contain natural botanical oils, something pet owners should look for when choosing a product. When shampooing a dog, massage the whole body once over and then rinse the coat. Conditioner can be massaged into the dog and rinsed or purchased as a leave-in conditioner and sprayed on the dog to nourish their body and help avoid future dry skin problems.
3. Brush their fur as often as possible to remove dead coats. As a dog's skin dries out, the hair tends to shed and skin flakes off, leaving an unpleasant feeling for dogs. This could cause them to scratch their coats excessively and not allow the new coat to become stronger. When brushing a pet, owners are removing the unwanted hair and allowing the coat to grow and protect the skin against drying out. Healthy, conditioned coats are the best preventative measure for a dog's dry skin.
4. Feeding dogs a good quality well-known brand of dog food will prevent dry skin. A dog's diet has a great impact on their overall health and well-being. It can affect the health, feeling, color of their fur, the dryness of their skin and their overall energy level as a pet. Feeding a dog wet dog food can help to provide more moisture to their diet and assist in keeping their skin from becoming dry. A natural, high quality food will help to ensure dogs are getting the nutrients they need to keep their skin as healthy as possible.
5. Ensure that dogs are getting a proper amount of water. Just like humans, a dehydrated dog can lead to many issues, one of them being dry skin. Have fresh, clean water accessible to pets 24 hours a day, especially if they are outside playing in the heat of the summer.
For more information about Petencare visit http://www.petencare.com, email us at care(at)petencare(dot)com or call +91-8826006737.
About Petencare:
Petencare is a full-service animal care online retailer dedicated to consistently providing high customer satisfaction by rendering excellent service and quality pet food and accessories at a favorable price point. Petencare also operates a blog and online magazine, "Waggazine", which provides customers with tips on various pet care issues including grooming and pet adoption.