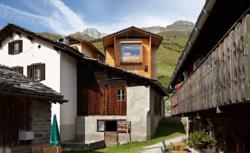 I love the spaciousness of the house, the living space with the spectacular 360-degree views, the openness to the surrounding landscape and the simultaneous feeling of coziness inside the house.
(PRWEB) April 25, 2013
A little over a dozen houses cluster around the 17th century chapel of Leis, yet none of them stand out as clearly as the Unterhus — a fascinating modern house built entirely out of wood. It is now available to rent through Welcome Beyond, a website promoting only the most extraordinary vacation homes and boutique hotels worldwide.
Set in the mountains above Vals — a 2.5 hours ride from both Lucerne and Zurich — the surrounding meadows are covered by wildflowers. It has always been Annalisa Zumthor's dearest wish to live in a timber house here. As there weren't any to rent or buy, husband Peter Zumthor and Annalisa built the spectacular vacation rental "The Unterhus", a reinterpretation of the traditional, local timber house. Planning to keep the house's construction visible, they maintained the traditional Strickbau building technique "so you can see the beams and feel the weight of the timber", she describes.
The house extends over three floors with the living room at the top. The rental is appointed with exclusive design pieces and a wood-burning soapstone stove that heats and cosies up the lounge. Having floor-to-ceiling windows on each side, the sun can literally shine through. "Even when you are inside the house, you still feel surrounded by the wonderful mountain scenery," Annalisa states. Two balconies and windows in every room offer guests 360° spectacular views. Comfortable outdoor seating areas in front of both the lower and upper doorways invite to hang out in the sun and fresh mountain air. With its 4 and a half rooms, the house sleeps up to 5 people.
With hardly any traffic in the area, guests can truly enjoy the peaceful and unspoiled landscape. The famous Therme Vals is nearby, guests can go skiing or hiking on the Dachberg, enjoy the spectacular mountain light as well as a broad, starry sky at night, which can be observed directly from the Unterhus' living room.
To find out more, visit the Unterhus. For more information about Welcome Beyond and other beautiful vacation properties, visit Welcome Beyond.