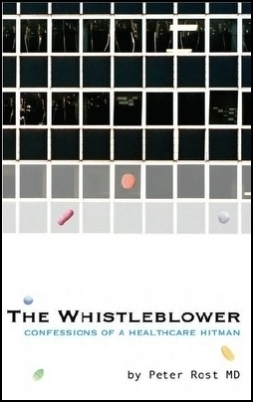 Pfizer has produced only a few of the detective documents described in
New York, NY (PRWEB) September 25, 2006
Dr. Peter Rost, author of "The Whistleblower, Confessions of a Healthcare Hitman," today revealed that Pfizer's Pharmacia division hired a private investigator to monitor Dr. Rost.
More information: http://the-whistleblower-by-peter-rost.blogspot.com/ and attached files.
The investigation of Dr. Rost took place after he had advised a company attorney of allegations of numerous illegal acts within the Genotropin growth hormone franchise. These allegations resulted in an ongoing criminal grand jury investigation.
Pfizer recently asked the US District Court, NY, to advise on relief and for sanctions against Dr. Rost for writing "The Whistleblower." Pfizer also requested "Confidential" designation of all documents related to the detective investigation of Dr. Rost. Case no. 05-CV-10384, US District Court, NY.
"As part of the ongoing litigation against Pfizer, we have asked the company to provide any and all documents that describe the company's surveillance or monitoring of my activities," said Dr. Rost. "Pfizer has produced only a few of the detective documents described in "The Whistleblower," so they are either not forthcoming, or they have destroyed documents."
In fact, Pfizer says in court documents that defendants, "object to this document request because it is vague and ambiguous to the extent that it uses the words 'surveillance' and 'monitoring' to presuppose conduct that is not present in this case."
Dr. Rost responds, "For Pfizer to claim that their surveillance of me 'is not present' is perplexing. After all, we know they already hired one detective and Pfizer sends letters to radio stations and other organizers of my public appearances before I show up. Pfizer and their lawyers also monitor my personal blog every day."
"Pfizer's reluctance to produce relevant documents may not be surprising considering that Warner-Lambert, a division of Pfizer, was recently forced to pay $430 million to resolve criminal & civil health care liability relating to off-label promotion," concluded Dr. Rost.
Dr. Peter Rost daily blog: http://peterrost.blogspot.com/
The Whistleblower: http://the-whistleblower-by-peter-rost.blogspot.com/
Contact: Kristin Pulkkinen, Publicity Director, Soft Skull Press, (718) 643-1599
# # #