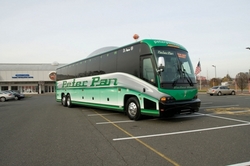 Our goal is to provide the highest level of comfort, safety and style possible for our valued customers.
(PRWEB) February 5, 2010
Staying true to the character that inspired its name, Peter Pan Bus Lines refuses to age. As part of its rebranding effort, staying current with new equipment and more ways for passengers to stay connected, the Springfield, MA-based company has taken delivery of the first 10 of 30 Motor Coach Industries (MCI) coaches in early 2010.
The coaches, a mix of MCI J4500 and MCI D4505 models, showcase a newly designed exterior graphic and new signature interior featuring customized fabric on seats with more leg room and three-point seat belts, power outlets, WiFi connectivity and wide flat-screen video monitors. The driver's compartment will also be equipped with state-of-the-art communications and on-board GPS systems for better operations, tracking of the fleet, as well as insuring passenger safety. Wheelchair lifts mandated on all newly manufactured coaches will also make intercity motorcoach travel more readily accessible for physically challenged passengers.
The new coaches also feature clean-diesel engine technology for lower emissions as mandated by the EPA and recently contributed to Peter Pan Bus Lines' achieving the prestigious Green Coach Certification. In addition to the lower emissions, the coaches are equipped with MCI's safety and performance package of Electronic Stability Control, SmartWave tire pressure monitoring and Amerex fire suppression systems.
Motor Coach Industries (MCI), which has supplied Peter Pan with coaches since 1974, will complete delivery of all 30 coaches by July, 2010, at a cost of approximately $500,000.00 per coach. Peter Pan currently operates a fleet of over 250 coaches with an average age of six and a half years and plans to update its entire fleet with the new graphics and interior updates over the next few years.
Peter A. Picknelly, Peter Pan's President, is very enthusiastic about the redesign and plush appointments in his company's fleet, and hopes it will set even higher industry standards. "Our goal is to provide the highest level of comfort, safety and style possible for our valued customers," Picknelly said.
MCI showcased Peter Pan's newest J4500 Model coach at the American Bus Association Marketplace, held at Gaylord National Harbor, MD from January 15 to 19, 2010, where the new coach was very well-received by industry vendors, conference attendees and competitors alike.
###