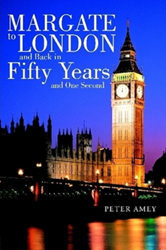 "I want readers to enjoy the adventure but also to think about today's society and whether all the changes we have made were the right ones," Amey says. "If they weren't, what lessons can we learn from the experience?"
HOVETON, England (PRWEB) November 17, 2014
It's an adventure in crime when Professor Edward Brookes kidnaps a beat police officer from 1964 and brings him to work with a doctoral candidate in 2014. Underlying the professor's scheme to blackmail senior politicians for political gain, Peter Amey examines societal changes over the last 50 years in his new novel, "Margate to London and Back in Fifty Years and One Second" (published by Lulu).
"The world has changed in the last 50 years," Amey says. "Some of it needed changing and some of it was better how it was. The lesson the world has never learned is that the answer to social problems is not found in one extreme or the other, but rather somewhere on the continuum between the two."
Amey brings together a fairly complex plot as Professor Brookes forces the young beat officer, Peter, and the doctoral student, Jane, to cooperate in his scheme. Together, Peter and Jane evaluate the changes in the police force, education, child-rearing, fire service and medical facilities that have occurred between 1964 and 2014.
As an unlikely romance develops and the two discover the murdered body of the professor's assistant, complications abound and they are left to wonder if they will suffer the same fate once they outlive their utility.
"I want readers to enjoy the adventure but also to think about today's society and whether all the changes we have made were the right ones," Amey says. "If they weren't, what lessons can we learn from the experience?"
"Margate to London and Back in Fifty Years and One Second"
By Peter Amey
Softcover | 6 x 9 in | 230 pages | ISBN 9781483418049
E-Book | 230 pages | ISBN 9781483418056
Available at Amazon and Barnes & Noble
About the Author
Peter Amey joined the police in 1964. He had a varied career from beat work in Margate, England, to heading a regional driving school. He then worked at his former university at Canterbury, having previously been named an honorary fellow.
Lulu empowers people of all ages to explore and express their interests, passions and expertise through books, photography and art. Since introducing self-publishing in 2002, Lulu has empowered creators in more than 225 countries and territories to produce nearly two million publications. Lulu Jr. allows children to become published authors, encouraging creativity, strengthening literacy and building self-esteem. Picture.com offers professional photography of collegiate and professional sports, memorable and historic events, fine art and home décor. For more information, please visit http://www.lulu.com.
###