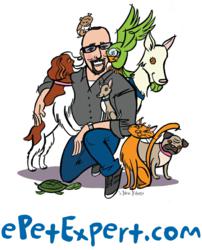 Your Reliable Pet Expert For Health Tips And Pet Product Reviews
Los Angeles, CA (PRWEB) December 12, 2011
Wally, whose title role in the new book "What About Wally?" helps pet parents better understand the legal and behavioral elements at play during a divorce, separation or break-up. Wally's goal with his resolutions is to help owners understand what their dogs really need when it comes to optimum health and socialization.
Daily Growl founder and pet expert Steven May has come up with some great tips which will bring in the New Year with great holiday spirit.
Steven May wants our readers to know the Top Ten of your New Year's Resolutions for pets. So my biggest resolution is to get them to take care of some of the things I need. Hopefully this list helps. Dogs and cats want the following:
1. Make sure I get my topical Flea & Tick medication on time. Once a month should do it.
2. Make sure I get my monthly heartworm medication. I don't want to lose to a mosquito.
3. Have my teeth cleaned regularly. If I could brush, I would. But I can't.
4. Exercise me every day with long walks. And my human wins on that one too.
5. Let me loose at the dog park so I can run and hang out with my buddies.
6. Make sure I am current with all my vaccinations.
7. Have me examined for parasites twice a year. Those little guys can wreak havoc.
8. Please change my linens every other day and buy a new pet bed at least twice a year
9. Make sure my nutritional needs are met and while I hate to say this, a Senior Diet please.
10. Since I can't tell them when I'm thirsty, make sure my water bowl is always clean and filled.
# # #