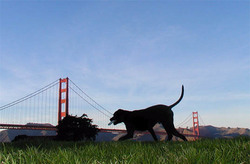 San Francisco, CA (Vocus) March 14, 2010
San Francisco Vacation Homes will now allow pets at all of their San Francisco Vacation Rentals. Charles Seidel, owner of San Francisco Vacation Homes says " I understand that when planning a trip or vacation to San Francisco many people want to have the convenience and luxury of their furry friend by their side. There has been a growing trend with luxury hotels in San Francisco to cater to the people in need of pet friendly accommodations, but the cost for such accommodations is not so friendly on the bank account. Travel is expensive enough without having to pay exorbitant room rates plus all the extra fees the hotel will tack on for hosting your pet, walking your pet, and possibly feeding your pet."
San Francisco Vacation Homes realizes that another concern for many pet accompanied travelers is really how "friendly" can a hotel be to a pet? The answer is not very. Just the nature of a hotel room does not lend itself to be the ideal space for your furry friend. Hotel rooms are small, cramped and do not have fresh air, views, and green grass. Plus many of these hotels require that when you leave a pet in the hotel room unattended that the pet must be enclosed in a crate. Thankfully there is a great solution that is not always thought of when looking for accommodations.
Privately owned San Francisco Vacation Rental Homes will provide the ideal setting for any pet. With fenced in yards and four times the interior square footage of a hotel room, pets will have ample room to run around and feel right at home. The advantage of having a fenced in yard is that pets can be left alone without any concern about accidents. Vacation Rental homes in San Francisco are also often in some of the cutest neighborhoods in San Francisco where shop owners welcome pets and parks and green areas are everywhere. Renting a San Francisco Vacation home instead of a hotel room will make your whole San Francisco experience a better one.
###