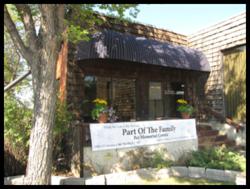 When we lose a pet, we lose a part of the family
(PRWEB) November 06, 2012
Announcing the Opening of Edmonton and Northern Alberta's first Full Service Pet Funeral Home. Stop in to view the 3100 square foot facility located in central Edmonton at 11904 – 113 avenue. Also found on the web at http://www.potfpmc.com as well as on Facebook at Part of the Family Pet Memorial Centre.
November 15 – 18, 2012 will mark the beginning of a new era of family pet funeral services in the Edmonton area with the Grand Opening Celebration of Part of the Family Pet Memorial Centre .
When a beloved human family member passes away, a trusted funeral home is there to help you with the final arrangements. Now it is possible to have the same opportunity to experience this for a beloved pet. As licensed funeral directors, Ardeth Strohschein (Owner) and Paul Guerette (General Manager) know the importance of recognizing and celebrating these relationships and bonds. The professional and dedicated staff of Part of the Family Pet Memorial Centre will find the best way to celebrate a pet's life and contribution to the family in the most honoring and respectful ways.
Come and browse through the city's most extensive selection of pet urns and commemorative pet cremation jewellery, as well as a resource centre filled with pet sympathy cards and pet loss literature. Part of the Family's visitation room allows families to spend time with their pet prior to its transfer to the crematorium. Ever wonder what it would be like to have a Memorial Gathering to celebrate the life of the family pet? Now anyone is able to book the chapel and reception hall to spend time together celebrating the special bond the family has shared with the pet.
Questions regarding the memorializing of any pet will be answered by calling 780-756-PETS (7387).