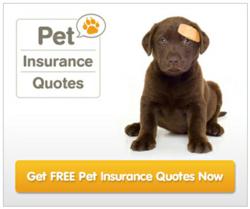 I just read a story about a Great Dane that had bacterial pneumonia and the vet bills totaled more than $13,000.
Columbus, Ohio (PRWEB) May 16, 2012
How much would you be willing to spend on medical treatment for your pet?
"If you or your spouse don't have a limit on how much you'd spend on medical care for your dog or cat then pet insurance is something you really need to consider," said Nick Braun, founder of PetInsuranceQuotes.com. "Unfortunately the average pet owner doesn't realize how quickly vet bills add up when your pet gets sick or injured."
The cost of veterinary care has skyrocketed over the past decade due to drastic improvements in technology and treatment options. Although these advancements can improve and prolong the lives of our four-legged friends, they can also be very expensive and often out of reach for pet owners who don't have insurance.
"Many pet owners are shocked by how expensive pet health care can be," explained Braun. "Hip dysplasia, cancer, ligament tears and other major medical issues can easily cost more than $5,000. I just read a story about a Great Dane that had bacterial pneumonia and the vet bills totaled more than $13,000."
Pet health insurance, commonly referred to simply as pet insurance, is an effective and affordable way to help pay for large, unexpected veterinary bills when your pet suffers a major illness or injury. There are currently 12 different companies offering pet insurance in the United States, and each is unique. Pet owners can choose from a range of coverage options from basic accident-only policies to comprehensive wellness & routine care packages. Many companies even allow pet owners to decide what they want their deductibles and co-payments to be.
"Ultimately, consumers benefit from having so many great options, but it also makes the decision-making process more difficult, particularly in a new market," Braun commented. "We wanted to create a website that helps pet owners choose the companies and coverage options that fit their individual goals and budgets."
PetInsuranceQuotes.com provides company profiles, educational resources and comparison tools to help educate pet owners about pet insurance. But what makes the site truly unique is its proprietary quoting system that allows pet owners to get quotes from multiple companies in real-time.
"We just took an established model into a new market. Americans use the Internet to research, compare and shop for everything from flights and hotels to houses and mortgage rates, so we thought, why not build something similar for the pet insurance industry?"
Since launching in January, PetInsuranceQuotes.com has generated custom quotes for over 2,000 pet owners looking to buy pet insurance. Nearly 69 million households in the U.S. have a pet, yet only 1% have insurance, compared to 44% of households in the U.K. Braun and his team hope their website can play a role in helping the U.S. market grow by raising awareness in new marketing channels.
"Pet insurance benefits the owners, the veterinary professionals, and most importantly, the animals themselves," Braun concluded. "We truly believe in the value of pet health insurance and our mission is simple, to help insure as many pets as possible."
About PetInsuranceQuotes.com
Founded in 2011 and launched in 2012, PetInsuranceQuotes.com offers real-time pet insurance quotes from all the top pet insurance companies in the U.S. The PIQ Matrix provides visitors with tools and information to compare companies side-by-side. The site also provides in-depth profiles, information and links to help educate pet owners about the value of pet insurance.