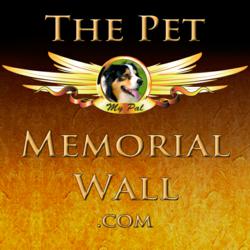 Emotions from pet loss are often underestimated. If the loss was a son or daughter you will never hear: "It was just a child, you can get another."
Los Angeles, CA (PRWEB) December 29, 2011
The Pet Memorial Wall, has launched a website; http://www.petmemorialwall.com memorializing pets with a unique interface designed to share a tribute with other grieving pet owners and celebrate their lives.
When a member of our family passes away the depth of this personal loss is universally accepted. If it is a loss of a wife or husband, your friends won't set you up on blind dates by the end of the month. If it is a son or daughter you will never hear someone say; "It was just a child, you can get another".
In many households across the world, pets are constant companions and sometimes the only essential emotional support in many people's lives. Children are comforted with unconditional acceptance. Adults who would never otherwise exercise are kept healthy. Boomers and elderly have companionship after the nest is empty. Those of us without children feel blessed with the next best thing.
But what happens when pet companionship is lost? While studies show that pet bonds are sometimes stronger than human relationships, many are reticent to share the depth of their emotions.
Miriam Preissel experienced this loss in 2010 when her dog Paladin passed away. The conflicting feelings of despair, anger and loss were overwhelming.
In an attempt to find comfort and celebrate Paladin's life, Miriam looked to Internet pet memorial websites. "Although many sites offered pet memorial services along with products such as urns, none had the tribute qualities or emotional pet loss support I had expected. Most were confusing to navigate with photo galleries that pushed old posts into oblivion, some appeared to be designed for children with the lovely Rainbow Bridge poem, but none with a tribute that I though anyone would notice."
The Pet Memorial Wall was Preissel's answer to her dilemma. Spending a year on development the site's homepage features a "wall" of memorials, inspired by the Vietnam Memorial Wall. Up to 1,000 animal memorials are available at once in a universal spirit, easily navigated by users, connecting with other's experiencing similar emotions in their pet loss. Each tribute pops up when moused over showing a larger image with birth/passing date, a short epitaph you would find on a gravestone, a link to a personal pet memorial page along with a live chat and pet loss blog.
Features:
--Choice of placement and size of pet memorial
--Photograph "pops up" when moused over showing a larger image, pet name, birth/passing date and a 150-character epitaph
--Clicks through to personal pet memorial page for user comments and social networking
--Pet Memorial Certificate Available
--Live chat
--Blog specific to pet loss
--Minimum purchase of $45
--10% of purchase is donated immediately to animal charity of user's choice
--As each wall is filled, the current wall will be archived and assessable to all users for 5 years
Pet Facts:
--In the USA, the American Pet Products Association (APPA) 2009-2010 National Pet Owners Survey reported pet ownership is currently at it's highest level with 71.4 million households owning at least one pet (translating to a staggering 62% of the population). The survey revealed that there are 77.5 million dogs, 93.6 million cats, 171.7 million freshwater fish, 11.2 million saltwater fish, 15 million birds, 15.9 million small animals, 13.63 million reptiles and 13.3 million horses.
--In the UK, according to the Pet Food Manufacturer's Association, the top 10 Pets are: Fish (over 40 million Indoor and Outdoor), 8 million dogs, 8 million cats and about 3 million small animals such as rabbits, hamsters, guinea pigs, etc. Birds, chickens and fish are also increasingly popular pets, particularly fish kept indoors.
--PFMA also estimates in Europe, 55 million households own a pet, many owning a mix of different types. These households own 47 million cats and 41 million dogs.
--The European Pet Food Industry (fediaf.org) reports throughout Europe, an estimated 550,000 direct and indirect jobs are generated by pet ownership such as veterinarians, breeders or connected supply industries. The pet food industry and related supply and services represent a combined annual turnover of about €24 billion.
For more information contact:
Miriam Preissel
http://www.petmemorialwall.com/home/contact
###