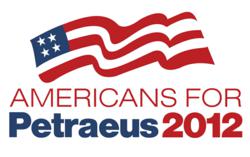 Petraeus resonates because he "exhibits results-oriented leadership..."
Tampa, FL (PRWEB) May 13, 2011
Recent polls of potential GOP presidential candidates show General Petraeus in the lead, garnering the highest approval rating of possible nominees. Although he has eschewed running, Petraeus is frequently mentioned as an attractive candidate to challenge President Obama in the 2012 election. As a result, Americans for Petraeus 2012, a group advocating his candidacy, has seen its membership rolls double in the last month and increased traffic to their website. As a result of this surge in attention, two prominent Republican congressmen have seriously discussed supporting a candidacy by General Petraeus.
A Gallup Poll conducted in March 2011 found that Americans hold favorable views of General Petraeus with 61% of Republicans and 55% of all Americans expressing a favorable opinion. "Petraeus has the most positive image of the four long-shot candidates, likely because of his status as a military general and his overseeing the successful "surge" strategy in Iraq…" said Jeffrey Jones, of the Gallup organization. Analysis of past Gallup polls indicates that his favorable ratings have been consistently high since turning the situation in Iraq around in 2007. Time Magazine also recently named Petraeus as one of its 100 most influential people.
As recently as this month, Senator Charles Grassley (R-IA) told the National Review Online that he would not only support General Petraeus for President, but was ready to escort him to all 99 counties in Iowa before the pivotal Iowa caucus. Grassley summed up the General's appeal by saying, "He's apolitical and has been a very successful military person and that he is a person that would come without baggage to a country that's in trouble." This follows comments by Representative Peter King last December supporting a run by Petraeus.
Petraeus advocacy groups have sprung up and are gaining national attention. AmericansForPetraeus2012.org has seen its membership double since Petraeus was appointed to head the CIA, with the pace of new members joining increasing. Michael "Lucky" LaChance, the head of the Tennessee Chapter of Americans for Petraeus 2012, says that Petraeus resonates with people because he "exhibits results-oriented leadership that has been sadly lacking. Petraeus has the intellect, ingenuity and drive required to get control of the deficit, develop a coherent foreign policy, and address the economic malaise facing the country."
###