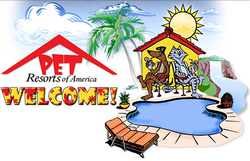 For dog-owners, the first thing I recommend is giving your dog's coat a good de-shed treatment. This is particularly important for breeds with an
Nashville, TN (Vocus) April 6, 2010
Summer time is approaching, and Pet Resorts of America owner, Kurt Laemmel wants to remind Nashville pet owners that after a long, cold winter their dog or cat may be feeling a little stir-crazy. So, as the new season approaches, he has a few suggestions to get their four-legged family members ready for another summer.
"For dog-owners, the first thing I recommend is giving your dog's coat a good de-shed treatment. This is particularly important for breeds with an "under-coat" or "winter-coat" such as Labs or German Shepherds. The heat of the summer can become a health factor," says Kurt Laemmel, owner of Pet Resorts of America. "Taking out the under-coat keeps your dog cooler during the summer, makes it more difficult for pests such as ticks to hide and minimizes shedding in the house."
Of course, any dog that boards at Nashville's Pet Resorts of America has another option to keep it cool during the hot summer, an in-ground swimming pool. "Our customers' dogs absolutely love the pool. When we let them out for one of their scheduled play-times, they tend to gather and play around the pool like a bunch of children. It's great exercise, keeps them cool and gives them plenty time to socialize," says Laemmel.
Summer also means that ticks and fleas are going to be out. Laemmel says, "There are many good products on the market to help dogs and cats repel such pests. However, we also recommend frequent dog grooming and bathing during the summer months to help keep their coats clean and their skin free of pests." Though Pet Resorts of America will bathe dogs when boarded, customers also have the option of scheduling an appointment and dropping them off just for a bath and grooming session. "Annette is our Certified Master Groomer. She has over eighteen years experience grooming and styling. She loves working with the variety of pets that come to our facility," says Laemmel. "Whether it's a cat needing grooming, a show-dog that needs styling or a rescue requiring special attention, Annette shares the special approach our entire staff takes to caring for your pet."
Other hot weather tips include providing an extra large water bowl or bucket for outside dogs, and changing the water daily. Also, make sure pets have a shady place to lie down. "If it's too hot outside for you, bring your pet in too," says Laemmel. If there is a heat wave, make sure pets are inside or take them to Pet Resorts of America, for air conditioned runs.
Another feature that customers from Franklin, Brentwood and Bellevue appreciate is Pet Resorts of America's indoor/outdoor dog runs. "We have the longest indoor/outdoor dog runs in Nashville," Laemmel states. "When dog boarding with us, they are free to leave their indoor room at any time and enjoy some time in their personal outdoor patio, all within their 16' run. Even though we walk each dog twice a day, we find that ready access to their own "patio" keeps them much happier."
Laemmel also stresses that pet owners take time this summer to do something special with their pets. "We all get in relationship ruts, and we do the same with our pets. So I always suggest, no matter your dog's age, that you join a class or do some kind of dog training. This greatly stimulates your dog and gives them a dedicated time to have the undivided attention of their owner." Pet Resorts of America offers varying degrees of training, from basic skills to advanced discipline. Laemmel reminds, "Whether your dog has certain behavior issues to be addressed, or is just seeking new skills that you can both enjoy, our certified trainers will meet the challenge."
When asked to summarize Pet Resorts of America's approach to cat and dog care, Laemmel says, "We don't believe in the 'kennel' word. With our indoor/outdoor runs, two daily walks, a pool, scheduled play-times and interaction with staff, we are more like an all-inclusive resort for your pet. We even have special events as well. In fact, we just had an egg hunt, on Easter morning, where the dogs were let into our play area to sniff for eggs filled with doggy treats."
To learn more visit Pet Resorts of America's Web site at: http://www.petresortsofamerica.com or read their client testimonials and reviews.
# # #