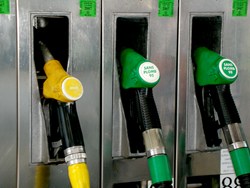 fuel pump prices have risen a staggering 2.5% in the last month alone
(PRWEB UK) 29 August 2012
The AA has warned that fuel price increases in the last month could risk damaging the UK government's inflation targets and herald the arrival of record prices in the next few weeks.
Tiger.co.uk, home of cheap car insurance quotes for many of Britain's hard-pressed motorists, has learned from the AA's research that fuel pump prices have risen a staggering 2.5% in the last month alone, equating to increases of 3.3p per litre of petrol and 3.2p per litre of diesel. These take average prices to 135.5p and 140.5p for petrol and diesel respectively, still short of the record highs of 142.5p and 147.9p recorded in April this year. But with wholesale fuel price increases not yet having found their way through to pump prices – in part due to fierce price competition at supermarkets – there are fears that prices will continue to rise over the next few months.
The recent increases mean that a two-car family will be spending £10 more per month on fuel than they were in July. Collectively, Britain's motorists will be spending an eye-watering £4.85 million per day more at the pumps than they were on July 1st.
The AA is warning that these increases, caused more by rising oil prices and market speculators than by increased driver demand, are threatening to derail the Bank of England's inflation targets.
Tiger.co.uk's Commercial Director, Andrew Goulborn, advised Britain's motorists to shop around for cheap fuel in the same way that they now shop for cheap car insurance quotes: "There's little that motorists can do about the underlying trend in increasing petrol and diesel prices but in the short term there is continued heavyweight competition amongst supermarkets and we would encourage drivers to make the most of the promotions on offer. And of course any driver who's looking to renew their car insurance policy in the next month can also get some great deals on Tiger.co.uk!"
About http://www.tiger.co.uk:
Tiger.co.uk is a trading name of Call Connection Ltd. Tiger.co.uk is a UK based, independent car insurance comparison site, offering insurance quotes from over 150 motor insurance brands. Call Connection Ltd is authorised and regulated by the Financial Services Authority (number 308374).
Attribution - http://www.theaa.com/motoring_advice/fuel/