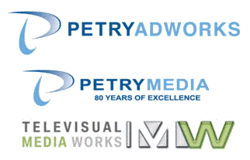 The partnership will generate advertising sales and advanced media revenue for traditional and new media platforms
New York, NY and Denver, CO (PRWEB) July 12, 2012
Petry Media, a broadcast and media sales company for over 80 years, and TV Ad Works, a multi-platform advanced advertising organization, have announced a new joint venture, Petry AdWorks. The partnership will generate advertising sales and advanced media revenue for traditional and new media platforms, including: digital, second screen applications and addressable advertising, long and short form Direct Response, mobile, interactive TV advertising, political, as well as general advertising representation.
Headquartered in New York, NY. with 11 offices nationwide, 150 employees, and owned by Lynn Tilton of Patriarch Partners; Petry Media, through its Petry Adworks division, will perform advanced advertising representation services for broadcast and subscription television operators and nationally distributed television networks. Petry Ad Works will employ exclusive engagement technology to enhance and maximize advertiser performance through a targeted and interactive media inventory.
"This partnership creates a massive ad sales organization that has delivered billions of dollars in local, regional and national advertising revenue. It has deployed its interactive engagement technology in over 200 national iTV ad campaigns with iconic blue-chip brands including P&G, Reebok, Ford, HP and Mercedes Benz. Said Gary Turner, CEO of TV Media Works, "By offering the viewer engagement technology and ad targeting, our interactive television applications have delivered, on average, three and a half minutes of viewership from a single 30 second spot. These interactive TV enhancements can easily be added to existing content and ad creative providing an experience that is not only more enjoyable for the viewer, but exponentially more valuable to advertisers, content providers and distributors. That's a win-win for everyone involved".
"Focused on maximizing advertising revenue for our clients, Petry Ad Works utilizes more precise audience targeting, viewer engagement and its sales expertise to monetize traditional ad inventory while generating new media revenue for its television partners," said Doug Fierro CEO of Petry Ad Works. "Petry Ad Works' platform and approach will allow advertisers to target and engage their audience more effectively and efficiently, through our exclusive interactive technology across mobile, second screens and main screens."
Petry Ad Works is already engaged in late stage contract negotiations with multiple television networks and advertising technology companies. Several deal announcements are expected in the coming weeks.
ABOUT PETRY MEDIA:
Petry Media is a global multiplatform representation company that provides a full range of advertising sales and marketing support services including research, programming, creative and information services to its clients including television stations, cable networks, digital publishers and mobile content providers.
Petry Media includes two divisions: Petry Television, a leading U.S. advertising sales representation firm serving more than 150 television stations in 35 states, and Petry Digital, which handles digital advertising sales representation for those stations.
ABOUT TV AD WORKS:
TV Ad Works, a subsidiary of Televisual Media Works, is a multi-platform media conglomerate that includes highly targeted interactive television networks, interactive advertising technologies and exclusive ad rep agreements. The TV Media Works team has created and deployed over 200 national ITV ad campaigns for premier brands including P&G, Reebok, Ford and Mercedes Benz and has delivered over one billion dollars of revenue to its satellite, cable and IPTV partners. Visit: http://www.tvmediaworks.com
ABOUT PETRY AD WORKS:
With the combined experience of selling billions of dollars of television media on behalf of advertisers, satellite TV distributors and cable TV networks and an infrastructure footprint, including 11 offices nationwide and 150 employees, Petry AdWorks is the leader in the fields of interactive advertising, addressable TV, ad Inserter media buys enabling revolutionary local media buys on satellite networks, basic broadcast network representation and much more. Petry AdWorks will not only develop and place buys, but it has the technological experience and know how to create interactive advertising campaigns and add interactive triggers to existing creative and ad buys. Visit: http://www.petryadworks.com.
ABOUT PATRIARCH PARTNERS, LLC:
Patriarch Partners, LLC, is a private equity firm and holding company managing 75 companies with annual revenues of more than $8 billion. Founded by Wall Street veteran Lynn Tilton in 2000, Patriarch is dedicated to saving American jobs by saving American companies. Since its inception, Patriarch has bought more than 150 companies, and in so doing has saved over 250,000 jobs. Patriarch's portfolio includes a broad range of concerns including Dura Automotive, American LaFrance, Denali, and MD Helicopters, in addition to iconic American brands such as Rand McNally, Spiegel Catalogs and Stila Cosmetics. Under Ms. Tilton's leadership, Patriarch has become the largest woman-owned business in America employing more than 120,000 employees. For more information, please visit: http://www.patriarchpartners.com
###