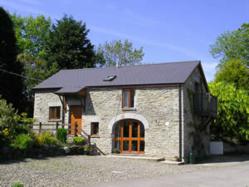 Taking the pooch doesn't mean you have to slum it!
London, UK (PRWEB) May 24, 2012
With a rather cute dog heading up the page, the new Pets Welcome Cottages section from Internet-Cottages brings together holiday cottages across the UK where pets are welcomed, and in some cases, actively encouraged! It is then possible to drill-down into specific areas of the UK, including Cornwall and Devon in the West Country, as well as other areas such as The Lake District and Derbyshire Peak District.
Historically, it was often necessary to compromise on the quality of the accommodation when taking a pet on holiday, but nowadays, cottage owners recognise the important part pets play in peoples' lives, and therefore increasingly welcome them in their properties - so taking the pooch no longer means you need to slum it! A perfect example is Hen Stabl in Pembrokeshire, Wales, which offers an extremely high standard of accommodation for 2 people, in addition to up to 2 dogs.
Families too don't need to miss out either, with a wide range of pet friendly cottages available which sleep 4, 5 and 6 people - or for really large families, or group getaways, there are some that sleep over 20 people.
One important fact to bear in mind though is that while it's easy to find the accommodation, there are some limitations imposed on beaches in some areas over the peak summer months, so always worth checking what restrictions there are in the local area. In most cases, there are beaches where pets are allowed, details of which can generally be found at the local Tourist Office.
Internet-Cottages is a directory of private holiday cottages in the United Kingdom, France, Spain and Portugal. The Pet Friendly section is just one of several devoted to holiday cottages providing very specific facilities, which includes Cottages with Pools, Sea Views, WiFi - or even with a Hot Tub. For cottages satisfying several of these criteria, the main Holiday Cottages UK section includes an Advanced Search facility allowing selection of cottages satisfying multiple criteria.
For more information about this release, or about Internet-Cottages, please contact Ian Locke at emailus(at)internet-cottages(dot)com.