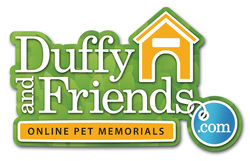 Our site is a place where pet lovers can celebrate the lives of their pets that have passed with other pet lovers who understand
Cleveland, OH and Carefree, AZ (Vocus) December 8, 2009
RU2TWINS, LLC, has launched its online pet memorial site, DuffyandFriends.com (http://www.duffyandfriends.com ).
"When a pet passes," says Cynthia Gannon, co-CEO, "whether from a long term illness or a sudden accident, oftentimes the pet owner not only has to face his or her grief alone, but also has trouble sharing wonderful memories of the pet with non-pet owners."
DuffyandFriends.com resolves that tragic predicament. "Our site is a place where pet lovers can celebrate the lives of their pets that have passed with other pet lovers who understand," says Valerie Krahe, co-CEO.
The idea for the online pet memorial site came about after Valerie lost her beloved pet of fourteen years, Duffy. Cynthia, Valerie's identical twin sister, was a major caregiver to the Yorkshire Terrier when Valerie traveled. Both felt the loss of Duffy keenly but wanted to do something to celebrate his life not mourn their loss. "That's how DuffyandFriends.com was born," say the twins.
Visitors to the online site can become members for free. The free membership allows all visitors to browse pet memorials that have been posted. For a small fee, visitors can also post condolences to the owners of the pets who have passed, and the condolences remain on the specific pet memorial page for two years.
Members can also post memorials of their pets that have passed. The memorial remains on the website for two years from date of posting. Members who purchase a Silver Memorial, for $9.95, are permitted to post a photo and heartfelt words about their pet. A Gold Memorial, at $19.95, includes four additional photos in gallery format. Both types of memorials also include three free condolences and one free gift.
DuffyandFriends.com has other pet-friendly features, including an affiliations page that provides links to other pet-friendly nonprofit and for-profit sites.
"When the time comes," Cynthia and Valerie say, "DuffyandFriends.com is there for pet owners who are grieving alone."
About Duffy & Friends
DuffyandFriends.com (http://www.duffyandfriends.com) is an online pet memorial site where visitor's can pay tribute to the good things they want to remember and share about their pets. Whether it be one special time spent together or a lifetime of moments shared, DuffyandFriends.com encourages pet owners to take the opportunity to write down those memories to help them heal and to allow them to share their wonderful recollections with others who understand. Site visitors can browse through the heartfelt tributes that have been posted or visit a family member's or a friend's pet memorial. Visitors can also send a condolence to a friend or family member whose pet has recently passed. A portion of all purchases will be donated to a nonprofit affiliation as listed on the site's Affiliations page. So, a condolence is not only a touching gift for your friend; it will also help feed and shelter a less fortunate animal in need.
###