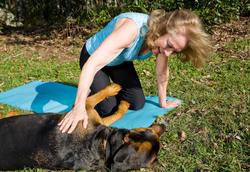 Had it not been for the Accreditation Program I took through PSI, I'm not sure I would have known what to do.
King, NC (Vocus) April 9, 2010
Susan Ewing, owner of Susie's Pet Sitting in Arlington, WA, believes her accreditation coursework through Pet Sitters International (PSI) helped her diagnose and treat severe heat stroke in a client's dog. Her actions helped to save its life.
Ewing became concerned for all the animals in her care during a heat wave a few years ago when temperatures soared to almost 100 degrees. She was especially worried when one of the dogs she visited daily did not come bounding down the driveway to greet her.
"I found the dog lying on the ground looking dazed," Ewing said. "He had bright red gums and was acting almost as if he was in a drunken stupor. I moved him into the shade, cooled him down with the garden hose and wrapped him in wet towels."
Ewing learned through PSI's Accreditation Program that the goal in treating heat stroke is to decrease the dog's body temperature to 104 degrees in the first ten to fifteen minutes, then stop the cooling process and proceed with transport to a veterinarian. The dog recovered with the help of Ewing's quick thinking and her ability to immediately recognize and treat the signs of heat stroke.
"Had it not been for the Accreditation Program I took through PSI, I'm not sure I would have known what to do," Ewing said.
With more than half of U.S. adults expecting to take a trip during the next six months, professional pet-care givers are ramping up for a busy summer.
According to Ellen Price, academic manager and creator of PSI's Accreditation Program, research shows that pets are happier and experience less stress at home. A pet's diet and exercise routines are also uninterrupted and a pet's exposure to illness is minimized.
"Friends, family members or neighbors may seem like a logical choice for pet care," Price said. "However, a professional pet sitter has the experience and qualifications necessary to appropriately care for companion animals."
PSI, the world's largest educational association for professional pet sitters, recently expanded its accreditation program and is now re-certifying its members every three years to keep skills and knowledge current.
Price believes that PSI's Accreditation Program is a unique benefit because it is the most comprehensive and scientific course of study in the industry.
"A PSI Accredited Pet Sitter brings a tremendous wealth of knowledge to the care of companion animals on topics such as health and nutrition, canine and feline behavior, separation anxiety and pet loss," Price said.
PSI gives its members access to the most extensive benefits and affiliate programs in the industry, including monthly educational e-newsletters, a bimonthly educational magazine, an annual convention and access to bonding and liability insurance. These policies fully cover pets and property and provide pet owners peace of mind while they are away.
To find the best care for your best friends, please visit The Pet Sitter Locator.
About Pet Sitters International
Established in 1994, Pet Sitters International (PSI) is the world's largest educational association for professional pet sitters, representing nearly 8,000 independent professional pet-sitting businesses in the United States, Canada and abroad. PSI provides members with access to affordable bonding and liability insurance and educational resources including a comprehensive Accreditation Program , The Pet Sitter's WORLD magazine and PSI's annual Quest convention. PSI also publishes the The Pet Owner's WORLD magazine and thepetsitblog.com. For more information, visit http://www.petsit.com ], home of the Official Pet Sitter Locator™ or visit the PSIStoreOnline , the largest specialty retailer of products for pet sitters and pet-sitter business owners.
Contact: Courtney Klein
Phone: (336) 983-9222 ext. 318
Contact: Terry Chance
Phone (336) 983-9222 ext. 314
# # #