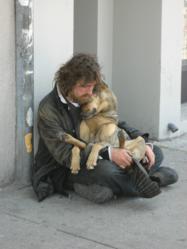 "Pets of the Homeless is very grateful to WHC Foundation and PetCo Foundation for their continued support." G. Frederick, Executive Director
Carson City, Nevada (PRWEB) October 03, 2011
In September 2011 the Pets of the Homeless nonprofit received a grant in the amount of $3000 from the WHC Foundation, Reno, NV. The funds are to be used in the procurement of pet food for the pets of the homeless and poor in the Reno area. In conjunction with this grant, the PetCo Foundation, San Gabriel, CA, has provided a matching product donation. The PetCo Foundation has agreed to match, pound for pound, food purchased by the Pets of the Homeless program. The food is being delivered to the St. Vincent Food Pantry, Reno, NV. Food Pantry manager, Scott Cooksley reports that 45 dogs and 30 cats a day are currently being fed.
According to the Department of Housing and Urban Development, 1.6 million people were homeless at some point from 2007 to 2008. It is estimated that 5-24% of those have pet companions depending on the region and in 2007 there were 3,000 homeless in the Washoe County area alone. Due to the recent economic downturn, that number has risen to 4,000-5,000.
Pets of the Homeless is a volunteer, nonprofit organization that partners with local businesses, food banks and veterinarians to provide support to less fortunate members of the community by providing food and veterinary care for the pets of the homeless and disadvantaged.
# # #