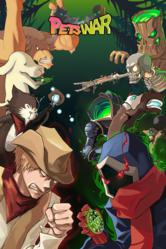 (Vocus/PRWEB) March 30, 2011
The all-new iPhone game PetsWar released by Digiarty (http://www.iphogame.com) today is honored as "New and Noteworthy" by App Store. It has won great acclaim from both professional reviewers and general players by its additive gameplay and delicate design. Now, for only $0.99 all solid Apple fans can download the game to their iPhone/iPad/iPod touch. PetsWar Lite is also available in App Store.
Story Line of Pets War:
It began with the invasion of an evil wizard with a gang of hideous monsters. Your homeland, Green Kingdom, was in danger of being destroyed. People got bewitched and lost. With inborn super power, you, a cowboy, survived the spell. The power also endows you with the ability to command an army of pets to fight with you.
Features:

30+ increasingly difficult levels, challenging players' wisdom and finger flexibility.
20 beautifully scenes across farm, meadow, forest, lake and marsh, with changeable weather and landforms.
Thoughtfully keep the continuity of story and scenes, which stands out from other TD games.
Impressive background music along with skillfully designed graphics. Well suited for a wide range of audiences. Kid-friendly
More info http://www.iphogame.com/petswar/
Reviews from players:
"I downloaded this game, like its name, it is really fun and I became an awesome pets leader. But, unfortunately, for few days fighting with the countless monsters, I still can't protect my country. A nice recommendation to my friends."
"PetsWar is a good tower-defense game that just needs a little more to make a great one. The graphics and gameplay makes this playable by anyone. There is some amount of thinking and strategy involved in the gameplay and I recommend this without any hesitation, overall it's a fun game that could use a bit more polish."
Pricing and Availability:
App Store ($0.99) http://itunes.apple.com/us/app/petswar/id424792758?mt=8
PetsWar Lite (Free) http://itunes.apple.com/us/app/petswar-lite/id427577089?mt=8
About Digiarty Software
Digiarty Software, Inc. is a professional developer and publisher of iPhone games and multimedia software, specialized in various types of iPhone games development and DVD & video related solutions. More information about the iPhone games can be found at: http://www.iphogame.com or contact us at: contact AT iphogame.com
###