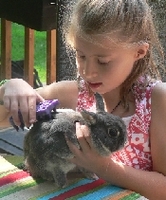 We are proud of the fact that awnings help protect pets every day
Roseville, MN (PRWEB) October 29, 2009
Double-digit growth in annual sales of sunscreen and increased sensitivity to proper hydration attest to people's growing awareness of the importance of protecting themselves from sun and heat exposure.
For pet owners, it is critical to recognize that pets are especially vulnerable to the effects of sun and heat. Thick fur coats combined with less efficient biological cooling systems leave pets at risk to the ill effects of high temperatures and exposure to direct sunlight - which may include discomfort, sunburn, heat stroke, or even death.
A new video produced by the Professional Awning Manufacturers Association (PAMA) provides tips pet owners can follow to help assure their pets stay healthy and comfortable when the sun is high and the heat is on. The video is available from the PAMA website, http://www.awningstoday.com/awnings_and_pets.htm and on the PAMA YouTube Channel at http://www.youtube.com/user/awningstoday.
"We are proud of the fact that awnings help protect pets every day," says Michelle Sahlin, Managing Director of PAMA. "Homeowners use awnings to create shade areas in the yard for their outdoor pets, while blocking harmful UV rays and cooling interior spaces for indoor pets."
The use of awnings is just one way to help protect these valued family members. "Most of the people who helped with this video project are pet owners themselves," continued Sahlin. "We took it personally. We wanted to make sure to present a range of ideas people could use to keep pets safe."
Pet owners are encouraged to view the video Awnings Today.com Presents Tips to Protect Your Pet from Sun & Heat, for additional tips and information about helping pets weather the heat and sun.
About PAMA
The Professional Awning Manufacturers Association (PAMA), a division of the Industrial Fabrics Association International (IFAI), is the only international trade association committed to the awning industry. PAMA membership is open to companies who are current members of IFAI and manufacture or sell awnings, as well as those who supply goods and services to the awning industry. For more information on the energy-saving and aesthetic benefits of awnings, visit http://www.awningstoday.com.
###