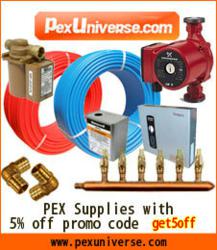 With a strong culture of commitment to customer satisfaction, PexUniverse.com continuously provides lowest prices and same day shipping to tens of thousands of customers every year.
Hemstead, NY (PRWEB) July 14, 2011
PexUniverse.com, a nationwide online retailer of plumbing and heating supplies, has announced today that it's further expanding its line of products to include PEX-AL-PEX tubing.
The new launch complements existing PEX tubing products (http://www.pexuniverse.com/pex-tubing) offered by the company, which already include non-barrier tubing and tubing with oxygen barrier.
In a statement issued by PexUniverse.com, it said "We're very excited to launch PEX-Al-PEX tubing, as many of our customers prefer this product instead of regular PEX tubing in their heating systems. Additionally, the fact that aluminum allows tubing to maintain its shape after its bent makes it much easier for our customers to install. We are also happy to announce that just like our other PEX products, the new product will be shipped for free, within lower 48 states, regardless of order size."
PEX-Al-PEX tubing sold at PexUniverse.com meets ASTM F1281, CSA B137.10 standards and is pressure rated at 200psi @ 73°F, 160psi @ 140°F. It's available in ½", ¾" and 1" in diameter and 300ft, 500ft, and 1000ft in length.
The radiant industry has enjoyed continuous growth over past decade. As a result more people are turning to internet retailers every day to purchase tubing, pumps, water heaters, as well as other components for their radiant systems. With over 50,000 internet searches for "Pex Tubing" and 135,000 searches for "radiant heating" over the last month, the industry is likely to continue to expand and demand for related products will continue to grow.
According to company's statement, "Aside from PEX-Al-PEX, we have recently added hundreds of new products, such as well pumps and jet pumps and water pool pumps to our catalog and PexUniverse.com will continue to meet market demand and introduce new innovative and practical heating and plumbing products that our customers are looking to buy at competitive prices."
The website offers free shipping on all orders for non-tubing products over $250, as well as significant discounts on bulk orders. Its Lowest Price Guarantee program launched in April is becoming increasingly popular and continues to match any competitor's price within 30 days of original purchase. It should be noted that while some retailers charge a low price for purchase and overcharge on shipping, http://www.pexuniverse.com/pex guarantees its customers that they will pay lowest total price, including shipping.
About PexUniverse.com
PexUniverse.com is a leading online retailer of plumbing and heating supplies based in New York. The company's main product line includes an extensive selection of PEX products such as PEX tubing, PEX Manifolds, PEX tools, and PEX fittings. In addition to PEX supplies, the website offers over 1500 products from leading brands such as Everhot, Taco, Grundfos, Little Giant, Honeywell, Steibel Eltron, Liberty Pumps, Takagi and many more.
Contact information
PexUniverse.com
196 Henry St,
Hempstead, NY 11550
Tel 800-818-3201
Fax 800-818-3211
info(at)PexUniverse(dot)com
http://www.PexUniverse.com/
# # #