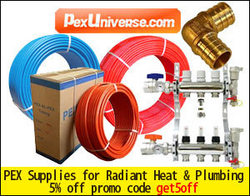 PexUniverse.com company offers over 1000 products from leading brands such as Everhot, Taco, Grundfos, Little Giant, Honeywell, Steibel Eltron, Takagi and many more.
New York, NY (PRWEB) April 20, 2011
PexUniverse.com, a nationwide online retailer of plumbing and heating supplies, has announced today that it has launched a number of new initiatives and offers in order to provide customers with additional savings and to enhance overall customer experience.
The website now offers Lowest Price + Shipping Guarantee on all of its products. In a statement issued by company's management, it said: "We notice that many sellers try and mislead their customers by offering low prices and then overcharging on shipping. Through our new Lowest Price + Shipping Guarantee offer, PexUniverse.com guarantees lowest price on the total cost of the transaction, which includes shipping and handling." Customers can also save money by applying special discount coupon codes at the checkout page. PexUniverse.com discount codes are regularly updated and are available for retrieval from major coupon websites. In addition to lowest product prices, customers can now pay even lower shipping costs by taking advantage of recently released Economy Shipping option.
The Management stated that the company welcomes not only home owners and home improvement contractors, but also bulk volume buyers and offers significant discounts on multiple quantity purchases.
In order to enhance customer's experience, PexUniverse.com has further simplified the return process of products that the customer no longer needs. Its new Return Processing System allows customers to submit a request for return 24 hours a day, 7 days a week, without a need to call or email for an authorization.
As part of its overall social media integration strategy, the company has established a strong presence on popular social media platforms such as Facebook, Twitter an Digg and has launched a product review program, enabling customers to read reviews from other verified buyers prior to making a decision to purchase the product.
PexUniverse.com has also reported that it has significantly expanded its product lines as well as number of products that it carries. As a reseller of Grundfos, the website now sells over 100 circulator and recirculating pumps such as Grundfos UP 15-10SU7P/TLC and Grundfos MQ3-45 Booster Pump. The Little Giant line has grown to a selection of over 400 pumps and sump pump equipment units. The websites' latest product line, Honeywell, is becoming very popular and customers can now choose among 200 Honeywell products such as thermostats, relays, controls, valves and other devices that are available on sale.
About PexUniverse.com
PexUniverse.com is a leading online retailer of plumbing and heating supplies based in New York. The company's main product line includes an extensive selection of Pex products such as Pex tubing, Pex Manifold, Pex tools, and Pex fittings. In addition to Pex supplies, the website offers over 1000 products from leading brands such as Everhot, Taco, Grundfos, Little Giant, Honeywell, Steibel Eltron, Takagi and many more.
With a strong culture of commitment to customer satisfaction, PexUniverse.com continuously provides lowest prices and same day shipping to tens of thousands of customers every year.
For more information about PexUniverse.com, visit us on the web at http://www.PexUniverse.com
Contact information
PexUniverse.com
196 Henry St,
Hempstead, NY 11550
Tel 800-818-3201
Fax 800-818-3211
info(at)PexUniverse(dot)com
http://www.PexUniverse.com
# # #