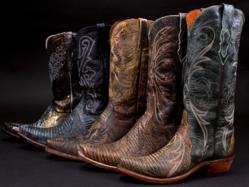 "When you think of what built America, it was boots and jeans, denim and leather handcrafted in the U.S.A.," he says. "I want to sell boots to people—men and women—who want the real deal."
(PRWEB) October 20, 2011
BootDaddy®, "The Baddest Boots on the Boulevard" and on the Internet (http://www.bootdaddy.com/), has launched its first concept store in Springfield, Mo.
A cross between a cowboy man cave and a veteran rock star's dressing room, the BootDaddy boutique promises to meet the demands of Western boot connoisseurs and those boot-buying virgins.
"We have executives driving up from Dallas to buy boots from us, as well as soccer moms who've never worn a pair of boots in their life," says BootDaddy founder and CEO Randy Little. "You put the right pair of boots on a man or woman, and you can see the difference. They walk out the door a different person."
Little and his team of designers, including Paul Patterson, are working with leading designers from Lucchese, Tony Lama, Dan Post, Rios of Mercedes, and others to build "outrageous, bodacious, and flirtatious" boots from the ground up that are exclusive to the BootDaddy collection. "These are works of art you're not going to find anywhere else," says Patterson of the bold but classic boot designs that are already popular with rockers, surfers, CEOs, and others who appreciate made-in-America fashion and craftsmanship.
The collection, which also features BootDaddy cologne, even has a mascot: a 1,500-pound American PBR bucking bull named—what else?—BootDaddy.
And for the BootDaddy launch, a customized 2011 BootDaddy Ford XLT, valued at over $40,000, is being given away. The folks at the Chrome Shop Mafia tricked out the truck with full quill Ostrich inlay seats and center console, along with green LED ground running lights.
For information about the BootDaddy Ford truck giveaway, visit http://www.bootdaddy.com/
To see the BootDaddy collection, visit http://www.bootdaddy.com/shop/
For media questions about BootDaddy, contact Randy Little or Paul Patterson at 800-222-4734.
The BootDaddy concept store is located in PFI Western Store, 2816 S. Ingram Mill Road, Springfield, MO 65804.
###