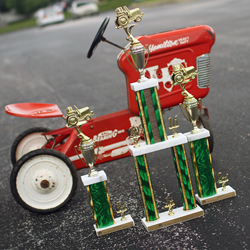 (PRWEB) June 07, 2016
It's all about the bragging rights at the 3rd Annual Magnificent Mule Jump and the 1st Annual Pedaling Tractor Pull at PFI Western Store on Saturday, June 18th.
PFI's Pedaling Tractor Pull, presented by Cinch, will start at 11:00am. The competition is divided into three age groups: 4-5, 6-7 and 8-10. Kids will compete to win divisional trophies (1st-3rd place) and $50 PFI Gift Cards. Pedal tractors will be provided or children can bring their own. Registration is free and is available online at PFIWestern.com/PFI-Registration-Page.
The 3rd Annual Mule Jump presented by Cinch, will start at 1:00pm. This year the bar is set high for mules coming from Michigan, Arkansas, Iowa and Missouri to compete for over $5,000 in prize money. This free event, for both spectators and participants, showcases mules that can jump over five feet from a standstill.
The Magnificent Mule jump will be divided into (4) divisions:
1. Mini Micro & Micro Mules: 40 inches and under
2. Small Mules: 40.1 to 52.3 inches
3. Large Mules (Amateur): 53 inches and over
4. Large Mules (Pro): 53 inches and over
How does a mule jump work? A mule will stand in front of a canvas curtain placed on a horizontal bar and jump from a standstill. Mules must come to a complete stop for one second before attempting a jump.
For information regarding mule registration, please contact Les Clancy at (417) 343-9412 or via email at ozarkmuledays2014(at)hotmail(dot)com.
Additional updates will be available at PFIWestern.com & BootDaddy.com!