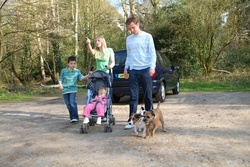 LONDON (PRWEB) May 29, 2008
Market research conducted among European dog owners in February this year revealed that about 1 in 3 dogs that travel suffer from motion sickness of some kind [1]. Nearly half (47%) of dog owners said they would travel more with their pet if it didn't suffer. This common problem is distressing for the dog and can make owners feel that they are missing out on the pleasures of travelling with their pet.
Unlike some other remedies, the new option does not work by sedating the dog, so the animal remains alert during the journey and arrives at the destination ready to interact with its owner. The new tablet will give dog owners the freedom to travel with their pet for the day – so they can enjoy a long, relaxing day out without having to remember to give another dose.
In the past, owners have had to rely primarily on veterinary sedatives and drugs developed for use in humans, or unproven products bought over the counter. The survey showed a high level of dissatisfaction with current therapies, with owners having tried an average of 3.9 different products each in an attempt to deal with the problem.
Although vomiting is the most obvious sign that a dog is suffering from motion sickness, if it starts to show any of the following signs when it's in the car, then it may be suffering the early effects of seasickness:
Hypersalivation/drooling Panting/sweating/licking its lips Restless/anxious behaviour, trembling Retching As well as the motion sickness pill designed specifically for dogs, owners may also be interested in a new website where they can get advice about this common problem, including tips on how to deal with it. Visit http://www.dogcarsickness.com. For more information about travel sickness in dogs, owners should consult their veterinarian.
Source:
[1] Research conducted in the EU by Harris Interactive, February 2008
Pfizer Animal Health, a business of Pfizer Inc, is a world leader in animal health, committed to providing high-quality, innovative medicines and vaccines for livestock and companion animals. Pfizer Inc, a research-based pharmaceutical company with global operations, discovers, develops, manufactures and markets leading prescription medicines, for humans and animals.
MULTIMEDIA GALLERY http://www.businesswire.com/cgi-bin/mmg.cgi?eid=5697595