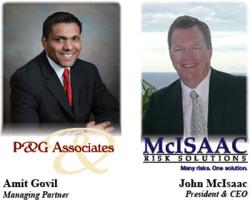 A key factor in our decision to partner with McIsaac Risk Solutions was our synergy in redefining an ideal practical ERM model
East Brunswick, NJ (PRWEB) May 31, 2012
Over the last 21 years, P&G Associates has been a reliable and consistently high-quality service provider of risk management services to the community banking industry. While internal audit has always been the predominant core service, the Firm, in recent years, has expanded to offer loan review, IT security reviews, and software to its list of services. The inclusion of a comprehensive risk management program is essential for maintaining a sharp eye on the evolving regulatory trends in the industry, and anticipating its needs in the community banking arena – not just reacting to them. It is the Firm's ambition to provide an ERM solution that is second to none. With the addition of McIsaac Risk Solutions' service set to the Firms current suite of solutions, P&G can continue to be a trusted single source for all of the community banking industry's needs regarding Internal Audit, Risk, Compliance, Credit, IT, and ERM.
"A key factor in our decision to partner with McIsaac Risk Solutions was our synergy in redefining an ideal practical ERM model which is dynamic and not static; comprehensive yet not complex; functional yet not overwhelming; and that incorporates all of the required elements of an economical ERM framework." Amit Govil – Managing Partner of P&G Associates
"Together, we deliver a high-impact solution that leverages and accelerates our joint ERM and ORM capabilities. By combining proven leadership and execution skills, we are redefining what is possible in the risk management space." John McIsaac – President & CEO of McIsaac Risk Solutions
The acquisition of McIsaac Risk Solutions complements the overall financial institution offering so the Firm will continue to provide comprehensive services to the community bank industry. P&G believes that the complexity of and confusion in the ERM arena mandates the need for a practical yet economical approach that is conducive and targeted to the specific needs of community banks. The acquisition of McIsaac Risk Solutions will enable the Firm to offer a unique ERM product with uncompromised service to meet the emerging needs of the community banking industry.
"We are excited to welcome McIsaac Risk Solutions to P&G Associates, and look forward to meeting the challenges of the evolving regulatory emphases together." Amit Govil – Managing Partner of P&G Associates