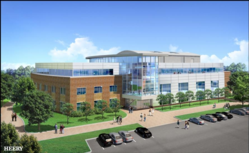 Opening the new center allows the college to expand and enhance existing clinical programs while developing new areas of specialization in response to workforce shortages." Angela Anderson, Dean of Health Sciences
Largo, Maryland (PRWEB) October 02, 2012
The new Center for Health Studies at Prince George's Community College (PGCC) in Largo, MD opened and enrolled its first class of students. The facility is designed to be completely interactive, allowing the students to actually practice performing the tasks and techniques that they will utilize as health professionals. The highly functional facility is easily transformed to provide urgent and emergency patient care in the event of a major local disaster.
The Center for Health Studies was designed by Heery International and was built as a joint venture between Turner Construction Company and Gilford Corporation. The Center features 112,000 square feet of laboratory, classroom and collaboration space, including 26 state of the art simulation labs, 10 smart classrooms, a smart-tiered lecture classroom, a computer lab and administrative offices for faculty and staff.
"The college partnered with state and county governments to create the Center for Health Studies in response to a growing demand for trained healthcare providers," said Angela Anderson, Dean of health sciences. "Opening the new center allows the college to expand and enhance existing clinical programs while developing new areas of specialization in response to workforce shortages," she added, according to a news release posted on the Prince George's Community College website.
"Turner and Gilford are pleased that the new Center of Health Studies is already providing a tangible benefit to the school," said Ken Jones, Vice President and General Manager of Turner's Mid-Atlantic region. "The facility contains state-of-the-art equipment empowering instructors with access to the best tools while educating health care professionals training to serve the DC metropolitan area."
When the project was awarded to Turner/Gilford, the stakeholders at PGCC stressed that local and minority participation on the project was of the utmost importance. The MBE/WBE utilization goal for this project was 35% and Turner/Gilford proudly achieved 44%.
About Turner Construction Company Mid-Atlantic
Turner has received accolade as a leading builder in the Mid-Atlantic region in diverse fields of healthcare, government, interiors, bio-tech, K-12 education, commercial, hospitality, telecommunications and multi-family residential facilities. Turner's focus on service and responsiveness to client needs has led to the company's consistent growth in the region over the past 30 years.
About Turner Construction Company
Turner is the leading general builder in the U.S., ranking first or second in the major segments of the building construction field. During 2011, Turner completed $8.2 billion of construction. With 5,000 employees and over 1,500 projects, Turner is the only builder offering clients a nationwide network of offices across the United States. Founded in 1902, the firm is a subsidiary of HOCHTIEF. For more information, visit Turner's website at http://www.turnerconstruction.com.