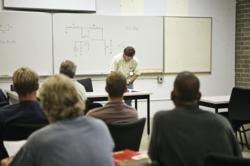 Winter Springs, Fla. (PRWEB) March 30, 2012
Power Grid Engineering (PGE), the "Go-To Source for Power Systems Engineering Solutions," announced today that PGE's Relay Philosophies Seminar has been approved by the Florida Board of Professional Engineers for 32 CEU/PDH credit hours.
PGE's Relay Philosophies Seminar has been specifically designed for utility engineers, engineering technicians and field relay technicians involved in the protection and control industry who would like to gain a better understanding of protective relaying philosophies.
Instruction will be provided by Michael J. Wright, PE who has more than a decade of power systems instruction experience. Each day of the seminar will be divided into topics that will be covered at length including: Fundamentals of Substation Configuration, Breaker Control Philosophy, Instrument Transformer Fundamentals, Fundamentals of Bus Differentials, Transmission Line Protection Basics, Current Transformers, Fundamentals of Breaker Failure, and Breaker Failure Theory and Application
"PGE has been offering this curriculum for six years, and we are pleased that we can now offer CEU credits to those who attend," said Wright. The training is offered in a two-part seminar encompassing the basic theory of protection and control.
This year's Relay Philosophy Seminar will be held at the Marriot in Lake Mary, Fla. The first 32-hour session of the seminar will be held June 25-28, with the second 32-hour session to follow August 13-17. PGE strongly encourages registrants interested in gaining an in-depth knowledge of relay philosophies to attend both sessions; however, there is an option to register for a single session. At the end of each session, participants will be provided with a certificate of completion for CEU credit.
Discounted lodging and dining is available through the Marriot and neighborhood partners. Each day will begin at 8 a.m. with complimentary breakfast, and will end at approximately 5 p.m. Additional information about the 6th Annual Relay Philosophy Seminar is available online, for specific questions regarding registration of CEU credits please contact Erica Baghrzadeh at Ebaghrzadeh(at)powergridmail(dot)com.