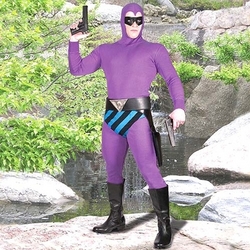 Windlass Studios, the licensing division of MRL, which the retro heroes are part of, is making movie level magic real for the everyday fan
Conyers, GA (PRWEB) November 19, 2009
Museum Replicas Ltd. (MRL) announced today that their Hero Collection featuring some of King Features' most beloved characters will recreate the iconic props and costumes that made them famous. The Collection's first wave features The Ghost Who Walks. The Phantom's rings, guns, holster and full purple outfit, just the way you remember him. Created movie stills, serial footage and help from King Features creative team, MRL brings about the most popular retro Heroes of all time.
The costumes are made of high grade materials including 100% cotton and genuine leather, the props are full size and made of expertly formed metal and wood for authenticity. If the quality doesn't have collectors everywhere clamoring, the attractive displays, certificate of authenticity or the limited edition run, will.
"Windlass Studios, the licensing division of MRL, which the retro heroes are part of, is making movie level magic real for the everyday fan," commented Dave DiPietro, Marketing Director for Museum Replicas. "Regardless of being a comic book or movie fan, lovers of nostalgia will truly be amazed when they see these pieces."
Coming early 2010 Prince Valiant followed by Flash Gordon and Mandrake. Each outfit will be released with all the accessories that made them famous.
Retailers can order the product by calling MRL's wholesale division toll-free at 800-241-3664. Fans can order and see more about this and other licensed properties from Museum Replicas at http://www.museumreplicas.com and Windlass Studios at http://www.windlassstudios.com.
About King Features
King Features Syndicate, part of the Hearst Entertainment & Syndication Group, is the world's premier distributor of comics, columns, editorial cartoons, puzzles and games to newspapers. It is also a worldwide leader in merchandising and licensing.
© 2009 King Features Syndicate, Inc.
About Museum Replicas and Windlass Studios
Museum Replicas Ltd. and Windlass Studios along with their partner company, Windlass Steelcrafts are recognized as a worldwide leader in the design, manufacture and marketing of fine collectible products. With headquarters in Conyers, Georgia they sell their products in over 14 countries around the world. Licenses include Marvel Comics, The Terminator, Assassin's Creed I and II, Star Wars, The Tudors, Frank Miller's 300, Wheel of Time, The Phantom, World of Warcraft, Conan Hyborian Adventures, The Lord of the Rings, Harry Potter and the upcoming Ridley Scott motion picture, Robin Hood.
Contact
MRL/Windlass Studios 770-922-7500
Nisha Windlass, Media Relations
Robin Chaudhuri, Licensing & Wholesale
###