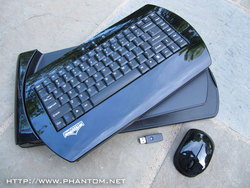 "The Phantom Lapboard is one of those fabled legends of the gadget world, a keyboard and mouse that you can use comfortably on a couch." - Gizmodo
Ridgewood, NJ (PRWEB) August 11, 2010
The Phantom Wireless Lapboard and The Phantom Wireless Laser Mouse together are a combination wireless keyboard and mouse where the keyboard opens to a hard mousing surface at adjustable rotating angles, that enables users to work or play from a couch, easy chair or any comfortable setting for Internet TV, HTPC or Gaming. The Phantom Lapboard is the only wireless computer peripheral which allows the consumer to use a "mobile desktop"; the hardware combination is designed to allow full control of the keyboard and mouse without the need to be sitting upright at a desk. The Phantom Lapboard includes wireless technology, ergonomic design, one-touch features, and a wireless high definition 1200 dpi laser mouse. In addition, the Phantom Lapboard also rotates for left and right handed users and inclines up to a 22 degree angle with a hard surface support for the Phantom mouse that is designed for Internet TV, game-specific and business software applications on PC, Mac, PS3 and other gaming platforms.
With the Internet TV revolution launching this year, the Phantom Lapboard provides consumers with the ability to use this exciting new technology to its fullest potential, not being docked to a table, trackball or touch pad. Consumers can easily utilize all the features of the new Internet TV user interface, which will now marry the television and the internet, from the couch or bed using the Phantom Lapboard. "We at Phantom Entertainment have believed for years that the set-top box would become the primary entry portal for content from TV, internet, games, movies, music and email. The Phantom Lapboard now fills that need for the consumer to interact with the new user interface and enjoy this amazing new technology from wherever any flat screen TV and set-top box is located; living room or bedroom" says John Landino Phantom Entertainment's CEO.
The Phantom Lapboard's unique features:

Super slim keypad with scissor-type keycaps
3 - button laser mouse with scroll wheel
Tilt keyboard design with swiveling plate for both right and left handed users
Two-way 2.4GHz RF technology with 79 channels and 11 IDs per channel
Wireless operational range can reach up to 10 meters in open space
Compact size keyboard with 13 MCE hotkeys (10 compound MCE hotkeys)
1200 dpi resolution with motion detection on acceleration of 8G
High-speed motion detection of 20 inches/second
Low power consumption, 16mA in working mode
Self adjusting 4-step power saving function with power on/off button
Battery duration typically 4 months
Phantom Lapboard Reviews:
Missing Remote.com - "I can positively say that in the case of the Phantom Lapboard, form follows function. They sought to create a keyboard and mouse that could be used for gaming or multimedia usage from the couch and came up with an unique designed that allowed you do to just that."
Hot Hardware.com - "If you're looking for a wireless keyboard and mouse for an HTPC that's also used for gaming, the Phantom Lapboard is worth serious consideration."
Ziggy TeK.com - "The idea is so simple and useful that I am perplexed as to why there are not more of them around: a compact wireless keyboard and mouse combo designed to work on your lap for couch typing/gaming/music listening/film viewing sessions."
Hardware Heaven.com - "Phantom have created a product which deserves a place in any discerning enthusiasts home. It is beautifully crafted, looks stunning (especially in white) and it requires no painful installations or driver updates to work on all the major operating systems available today."
About.com - "... who would thoroughly enjoy the Phantom Lapboard is a gamer who games from the couch, with one hand for mousing and one for keying."
The New York Times - "The lapboard allows you to have complete and full keyboard and mouse interaction from just about any type of position," "...You can use it as a lefty or righty."
Pricing & Availability:
The Phantom Lapboard is available now in black or white models at http://www.phantom.net for US and International delivery. The Phantom Lapboard has a retail price of $129.99 USD plus shipping.
About Phantom Entertainment
Phantom Entertainment is an industry-leading, global entertainment and interactive Internet TV, Media Center and Gaming peripheral manufacturer. Phantom Entertainment has developed and is marketing the Phantom Lapboard, a combination keyboard, mouse opening to a hard surface that enable users to work or play from a couch, easy chair or any comfortable setting with Internet TV, HTPC or Gaming.
###