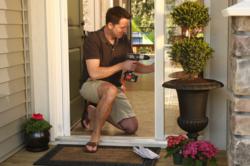 We know that not all homeowners are experienced DIY-ers; taking out the cutting step simplifies the installation.
(PRWEB) October 20, 2011
For homeowners who don't have a workshop full of power tools, or are more Fit-It-Yourself than Do-It-Yourself, there is now a customizable home installed retractable screen solution, thanks to a link up between Phantom Screens and Quanex Building Products.
The made-to-measure retractable door screens can be customized and ordered online via the website http://www.screenitagain.com. The new service is ideal for people who are happy to fit the screens, but don't have the right tools or ability needed to cut the retractable screen to size.
Using an online configurator with easy-to-follow guidelines to ensure the correct measurements are taken, the DIY retractable screens are factory cut to order and shipped direct to the homeowner.
To ensure the installation goes smoothly, both Phantom Screens and ScreenItAgain provide full instructions, as well as a technical helpline and support center.
Ron Somers, vice president, sales and marketing, Phantom Screens, welcomed the new initiative commenting: "We always look for ways to provide the right solutions to our customers' needs. We know that not all homeowners are experienced DIY-ers; taking out the cutting step simplifies the installation and removes the need to buy tools that some people may not have on hand."
This online service complements the plans Phantom Screens has in place to expand its online services, which will be implemented in the coming year. Ron Somers added: "With so much change in how people choose and buy products for their home – especially online – we are looking forward to leading that change in our industry, and creating new ways for homeowners to enhance their home with retractable screens."
"We are excited to be partnering with Phantom Screens," said Kevin Connor, vice president of marketing & sales operations for Quanex Building Products. "ScreenItAgain offers high quality products that are customizable to the exact specifications of homeowners. This partnership allows us to extend our online configurator to include retractable door screens, a new product category for us."
For full details and to use the online retractable door configurator, go to http://www.screenitagain.com.
About Phantom Screens:
Phantom Screens® is North America's leading provider of retractable screen solutions. Phantom's screens offer insect protection, solar shading and enhanced privacy for doorways, windows, and large openings such as outdoor living spaces, curtain walls and lift & slide door systems. Phantom retractable screens are designed to pull or lower into place when required and retract out of sight when not in use.
Every Phantom screen is backed with a Limited Lifetime Warranty for added peace of mind. Since its beginning in 1992, the Phantom brand has been synonymous with quality, innovative product development, and superior customer service. According to independent market research, 97% of Phantom customers rate their overall Phantom experience from good to outstanding.
Phantom Screens is a Registered Provider with the American Institute of Architects Continuing Education System (AIA/CES) and AEC Daily, and a member of NCHI and NAHB.
For more information about Phantom Screens retractable screen products, or to find an Authorized Distributor or Dealer near you, please go to http://www.phantomscreens.com or call 1-888-PHANTOM.
About ScreenItAgain.com
With 'Made in USA' manufacturing facilities across the country, ScreenItAgain is a business unit of Quanex Building Products Corporation, a global company with a focus on residential engineered products for energy-saving window and door systems, including window components and systems that optimize high performance insulating glass. http://www.screenitagain.com
About Quanex Building Products
Quanex Building Products Corporation is an industry-leading manufacturer of value-added, engineered materials and components, serving the energy-efficient building products markets. It is an ROIC-driven company that grows shareholder returns through a combination of organic growth via new products, programs and strategic acquisitions. For more information about Quanex, visit the company's website at http://www.quanex.com.
###