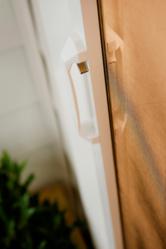 With so many features included as standard, we believe we are setting the benchmark for the industry.
Orlando, FL (PRWEB) February 08, 2012
Created to give homeowners ultimate control the Legacy retractable door screen is easy to use, whisper quiet and designed for easy living. Featuring an ergonomic and intuitive Latch & Release handle with smooth operating slidebar, Legacy by Phantom Screens® sets a new benchmark for retractable door screens.
Legacy is a retractable screen solution that is simple to operate, durable and blends with the aesthetics and décor of any type of home.
At the heart of the new Legacy door screen — and included as standard — is Phantom's Latch and Release handle which automatically latches the screen in the closed position to prevent it from opening in breezy conditions. It is easily released by simply pressing the subtle thumb lever. To ensure smooth operation Legacy uses track guides with a built-in lubricant that helps maintain easy movement of the slidebar across the door frame.
Designed to match any home Legacy retractable screens are available in Phantom's eight Signature color choices ranging from Slivered Almond to Coastal Gray. All Legacy screens have a factory-applied powder coated finish that resists fading and chipping — giving homeowners a quality and durable retractable screen door. The fiberglass mesh ensures resilience and provides full ventilation and protection from both insects and UV rays.
Legacy retractable screens fit a wide variety of door types including single and double doors, out-swing and in-swing doors and sliding patio doors. To preserve the aesthetics of a double-French doorway, two Legacy door screens can be mounted to the door frame, one on each side. To operate the screens, the slidebars are pulled to the center of the opening and held in place with the Latch and Release handle.
Introducing the Legacy retractable screen from Phantom, Ron Somers, Vice President, Sales and Marketing, Phantom Screens said: "We work incredibly hard to create the very best retractable screen solutions for homeowners.
"We've spent the last 20 years leading the industry with innovative products which are designed to give years of problem free service to our customers. The Legacy simply demonstrates the unparalleled dedication we have to delivering superb products which are great quality and easy to use. And with so many features included as standard, we believe we are setting the benchmark for the industry."
###