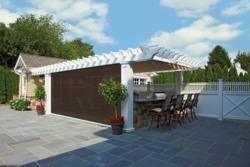 We noticed how great the screen was at reducing the heat and glare of the afternoon sun.
(PRWEB) October 28, 2011
Homeowners can now enjoy solar shading in their pergolas, outdoor rooms and outdoor kitchens thanks to a new partnership between Phantom Screens® and Walpole Woodworkers Inc.
The partnership was created following a visit by Walpole to one of their customers' homes last year. The company saw a Phantom Executive motorized retractable screen in action and recognized how well it could be integrated into their range of pergolas and garden structures.
Louis Maglio, president, Walpole Woodworkers Inc., said: "We noticed how great the screen was at reducing the heat and glare of the afternoon sun – and our customer was enthusiastic about Phantom Screens too. This discovery led us to think about how we could create beautiful outdoor living spaces which can offer solar shading when needed – all at the touch of a button."
Pergolas with integrated Motorized Executive Screens help extend the time that patios and terraces can be enjoyed. For those with attached pergolas, the Executive screens can help control interior heat in their homes – which enables them to use less air conditioning – reducing the amount of energy they use.
And it's not just homeowners that can benefit. Restaurants can extend al fresco and patio dining. Owners of facilities which require extra shading – senior centers for example – can also create protected, shady places to help people enjoy the outdoors.
Ron Somers, vice president, sales and marketing, Phantom Screens, also welcomed the partnership commenting: "Innovation and partnership has always been at the heart of Phantom's philosophy. Walpole Woodworkers came to us with an idea, and between the two companies, we were able to develop an innovative solution. Outdoor living is popular across the country and we are delivering ways that really enhance a homeowner's experience of their gardens and outside spaces."
Walpole Woodworkers Inc. has its own professional and authorized dealers who have received product specific training from Phantom Screens to ensure quality installation.
About Phantom Screens:
Phantom Screens® is North America's leading provider of retractable screen solutions. Phantom's screens offer insect protection, solar shading and enhanced privacy for doorways, windows, and large openings such as outdoor living spaces, curtain walls and lift & slide door systems. Phantom retractable screens are designed to pull or lower into place when required and retract out of sight when not in use.
Every Phantom screen is backed with a Limited Lifetime Warranty for added peace of mind. Since its beginning in 1992, the Phantom brand has been synonymous with quality, innovative product development, and superior customer service.
Phantom Screens is a Registered Provider with the American Institute of Architects Continuing Education System (AIA/CES) and AEC Daily, and a member of NCHI and NAHB.
For more information about Phantom Screens retractable screen products, or to find an Authorized Distributor or Dealer near you, please go to http://www.phantomscreens.com or call 1-888-PHANTOM.
About Walpole Woodworkers:
Walpole Woodworkers was established in 1933 and is the leading manufacturing and designer of outstanding outdoor site amenities including handcrafted wood and vinyl fences, pergolas, arbors and window boxes, mail posts, lantern posts and much more. Walpole Woodworkers Inc. is also the largest in-house fabricator of low maintenance cellular vinyl in the U.S. For more information visit http://www.walpolewoodworkers.com or call 800-343-6948.
Phantom Screens media contacts:
Jeret Unger
Digital Marketing Manager
Office: 1-888-444-4142 / 604-855-3654, ext 338
E-mail: junger(at)phantomscreens(dot)com
Richard Belcham
Marketing Communications Specialist
Office: 1-888-444-4142 / 604-855-3654, ext 340
E-mail: rbelcham(at)phantomscreens(dot)com
# # #