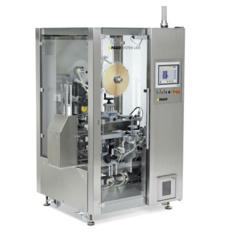 The criteria set by the pharmaceutical industry is the driving force behind innovation in our labelling technology
(PRWEB UK) 3 August 2012
Labelling technology from Pago successfully meets the challenging demands of today's dynamic markets. The Linear modular L400 labelling system was modelled on the specific needs of our client Dividella. Specialising in the development and production of packaging equipment for the pharmaceutical industry, Dividella's primary focus is packaging for parental products. Whether it is vials, syringes, injectors, needles, blisters or other fragile pharmaceutical products, Dividella develops secure packaging solutions that protect the valuable products of their customers in a compact and user-friendly way.
The challenge for the present specialised labeling equipment was to develop a simple label to be applied from below on upright collapsible boxes already filled with ampoules. The Pago labelling machine ensures smooth product delivery with controlled motion, register tracking and lateral retaining straps along with secure conveyance of the product. Labelling from below is accomplished with precise timing at all speeds using a PAGOmat 6/2A labelling head. Up to 80 products per minute can be labelled by using this gentle and secure product conveyance. At the same time, the label code is verified and synchronised using the data management system. Defective products are gently sorted and removed without damaging the fragile contents.
Like all Pago labelling systems, this specialised labeling machine meets all standards of the pharmaceutical industry and has been used successfully in terms of validation for the required FS, IQ and OQ documentation.
Pago is a world leading manufacturer of self-adhesive labels and labelling systems, and offers the very best in linear labelling systems, rotary labelling systems and individual labelling heads that guarantee the highest standards of accuracy, reliability and service.
Pago Ltd is a sales & service centre within the group and home to some of the most innovative labelling technology and sleeve systems in the print market. Working with leading names in pharmaceuticals, cosmetics, beverage, food and retail you'll find labels applied using Pago labelling machines on valued brands all over the world.
To learn more about Pago labelling machines and systems, speak to an expert today +44 (0)1206 755206 or message us through our online contact form.
Pago Ltd,
Centenary House, 7 Crown Gate,
Severalls Industrial Park,
Colchester, Essex, CO4 9HZ
United Kingdom