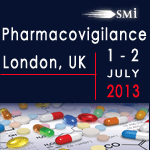 'Good Speakers' - PAREXEL International
London, UK (PRWEB UK) 8 April 2013
A year after the introduction of the new Pharmacovigilance legislation was enforced, SMi take a look back at the successes and failures in the first year of its implementation. With concerns occurring across the board in relation to PV auditing, companies face the challenge of understanding the key considerations when presenting to auditors.
The 2013 Pharmacovigilance installment looks to unravel the challenges in compiling and presenting the new PSUR to external regulatory bodies and determine what these regulatory bodies have learnt in the wake of its recent introduction.
SMi's first two conferences in the Pharmacovigilance series received positive reviews from within the industry. Attendee feedback included Mundipharma "Very Good", Teva Pharmaceuticals. "This was a very good conference" and PAREXEL International "Good Speakers".
The event will aim to provide attendees with:

Main points to consider when presenting a PSUR to external regulatory bodies.
Guidance on how to tackle the issues and importance of adverse event reporting.
Discussions on the importance of pharmacoepidemiology and what can be learnt from global trends.
The Benefits and challenges involved with outsourcing pharmacovigilance processes.
Case studies from companies that have undergone recent pharmacovigilance auditing and what was expected.
For further information on the event and a free brochure, contact John Collins at +44 (0)20 7827 6734 or email jcollins(at)smi-online(dot)co(dot)uk.
Alternatively visit the event homepage at: http://www.pharmacovigilance-event.com.