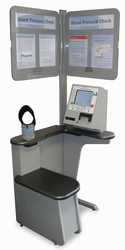 PharmaSmart and their retail pharmacy partners offer an innovative approach in the management of hypertension
Ferndale, WA (PRWEB) June 8, 2009
PharmaSmart International Inc. announced the integration of its patient hypertension tracking portal, the Blood Pressure Tracker™, with Microsoft HealthVault. HealthVault users will now be able to access and share blood pressure readings from PharmaSmart's network of pharmacy based health kiosks.
"PharmaSmart, along with our retail pharmacy partners, is committed to offering the hypertensive patient a more convenient, easy to use, and affordable way to track and manage their blood pressure between visits to the doctor," said PharmaSmart President Fred Sarkis, "Our partnership with HealthVault makes it easier for millions of Americans to track their blood pressure, and then share that information with their family members or healthcare provider."
Over 73 million Americans are diagnosed with hypertension, the nation's leading cause of death. These patients and their health providers are looking for better ways to monitor and manage hypertension between doctor visits. PharmaSmart's pharmacy based network of clinically validated blood pressure kiosks leverages the expertise of today's full service pharmacy to provide an affordable, convenient, and long term solution for managing today's hypertensive patient through active counseling.
By obtaining a personal "Smart Card" from their pharmacist, a patient can test their blood pressure as frequently as they like, and access their readings on-line via PharmaSmart's Blood Pressure Tracker™ patient portal. Users can easily copy their blood pressure data to their HealthVault record which enables the secure storage, management, and sharing of a wide array of health information.
"PharmaSmart and their retail pharmacy partners offer an innovative approach in the management of hypertension," said Dr. James Mault, Director, Health Solutions Group at Microsoft. "Aligning HealthVault's capability with PharmaSmart's pharmacy based solutions improves the integration of blood pressure data with other wellness information, and delivers information at the point of care."
Lisa Goodwin, PharmaSmart Chief Technology Officer, added, "PharmaSmart's alignment with HealthVault represents a natural progression, as we continue to invest in technology, partnerships, and programs that elevate our core competency - world class blood pressure management solutions."
About PharmaSmart
PharmaSmart is a world leader in the design, production, and distribution of innovative blood pressure screening systems to assist in the detection and management of hypertension. PharmaSmart products and services are used by pharmacies and worksites across North America, administering over 65 million BP tests each year.
Learn more about PharmaSmart by visiting http://www.pharma-smart.com or by contacting (800)781-0323 - Ask for Sales & Marketing. For media Relations please contact Mary Ann Rutkowski at x 321.
# # #