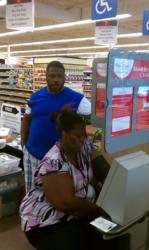 The industry has observed attempts to deploy multi-biometric, media focused devices into retail pharmacy. Such deployments have not been effective in driving clinical programs or pharmacy services revenue.
Rochester, NY (PRWEB) September 20, 2011
PharmaSmart International, a leading Blood Pressure Management and pharmacy services company, recently demonstrated advances in its blood pressure diagnostic, Health IT and Medication Therapy Management (MTM) platforms.
Fred W. Sarkis II, Company CEO stated, "Our NACDS showcase demonstrated our commitment to becoming the world #1 provider of 'Out of Office' blood pressure data for patients, pharmacists and physicians. Our technology addresses a critical need for clinically validated, 'out of office' blood pressure results. Research has proven this data is needed to aid in the diagnosis and management of hypertension, the worlds leading cause of death and disability. During our meetings, we demonstrated how, with the right tools in place, community pharmacy is positioned to lead the way to improved health outcomes for the 75 million Americans with high blood pressure."
"At this year's NACDS conference," said Sarkis, "we focused on two (2) key program elements. First, we highlighted the clinical significance of our patented, 'universal' blood pressure cuff, which provides accurate results for the growing obese population. Published research has noted that people with arms over 13" in circumference are unable to utilize blood pressure kiosks found in most pharmacies. This translates to 37% of Americans adults, many of who are obese and at high risk for cardiovascular disease. Overcoming this serious limitation has accelerated endorsement of PharmaSmart programs by hypertension thought leaders and primary care physicians. Such support is the first step in establishing an effective chronic disease management (CDM) program."
"Second," said Sarkis, "we unveiled our new MTM software product, BPT-Rx™. This breakthrough software integrates directly into the pharmacy software system, and links PharmaSmart automated blood pressure results directly to the enrolled patient's electronic profile. BPT-Rx™ supports improved patient enrollment, and targeted patient intervention based on established clinical guidelines – all without interrupting core pharmacy workflow. Pharmacists using BPT-Rx™ can easily submit outcome based case reports to receive qualified payer reimbursement."
During the NACDS conference, PharmaSmart also demonstrated its PS DataSmart™ database and analytics engine, currently housing over twelve (12) million patient blood pressure readings from across North America. PS DataSmart™ Analytics provides clients direct, transparent access to program metrics. Clients can now track by-store/by-day usage, program enrollment rates, hypertension rates & trends, and other metrics such as, Cholesterol, Diabetes and BMI to validate the program and guide MTM strategies. The DataSmart™ analytics tool validates program growth and helps maximize resource management efficiency.
Sarkis adds, "PharmaSmart is in tune with today's retail pharmacist, and the patient delivery system. As pharmacy looks to MTM reimbursement as a core ROI objective, our technology is designed to specifically meet the challenges of patient recruitment, pharmacist workflow, and payer reimbursement. For over 10 years the industry has observed attempts to deploy multi-biometric, media focused devices into retail pharmacy. Such deployments have not been effective in driving clinical programs or pharmacy services revenue. We have demonstrated that program success hinges on a high validity, low complexity kiosk, and a high degree of workflow integration to sustain pharmacist execution and program scalability. Our customers understand this, and their response to our latest program continues to validate our approach."
PharmaSmart's recently promoted Chief Operations Officer, Ashton Maaraba, was joined by two leading North American experts in blood pressure management, Dr. Ross Tsuyuki RPh (Director of EPICORE Health Research Centre, and 2005 Canadian Pharmacist of the Year) and Dr. Mark Gelfer, MD (founder of clinical device company BpTRU™). Maaraba explains, "Dr. Tsuyuki, Dr. Gelfer and I addressed hypertension management and effective, profitable program delivery at the pharmacy point of care. Historically, BP Kiosks have been positioned as advertising vehicles, and not chronic disease management (CDM) support tools. It's challenging to drive pharmacist engagement in a program that is engineered to maximize advertising revenue. Traditional 'self-care' kiosk programs supported by OTC marketing dollars offer limited returns and fail to address the current pharmacy services imperatives. Under the current environment, pharmacy retailers are looking to drive new, scalable ROI opportunities through pharmacy services, MTM, and effective patient care initiatives. We know that every retailer is unique. It is my team's job to ensure an effective and seamless integration of PharmaSmart services, equipment and technology into the pharmacy workflow – starting with a high impact launch and growing the program consistently from there."
Dr. Mark Gelfer was asked about his experience and states, "I've been attending medical conferences for many years and my experience at NACDS was outstanding. The pharmacy executives demonstrated a strong understanding of what constitutes a quality clinical program, and what it takes to gain the support of physicians like me. Hypertension is at epidemic levels in North America. In primary care, more than anything we need quality blood pressure data to help diagnose and manage patients over time. PharmaSmart's 'live', pharmacy driven platform is unique because it delivers validated, consistent, and integrated 'out of office' results that I believe the medical community needs most."
Dr. Ross Tsuyuki adds, "In my research I have focused on the 'passive' pharmacy mind-set, and the resulting challenges in developing sustained chronic disease management programs, and subsequent reimbursement models. I have concluded that pharmacists need new tools to support systematic patient recruitment into CDM programs, as well as tools to prompt MTM intervention imbedded into the standard workflow. PharmaSmart technology raises the bar in terms of the patient care opportunity, and has the potential to contribute significantly to the industry's reimbursement strategy."
PharmaSmart takes what Maaraba calls a "grass roots" approach to building patient engagement in clinical services. Maaraba states, "We are offering blood pressure care workshops or Doctor Detailing to retailers such as Big Y Foods, Walmart Canada, Associated Food Stores, Corborn's, Winn Dixie, Mariano's, Roundy's, Le Groupe Jean Coutu, Astrup Drugs, Smart Med Rx, Safeway Canada, Shoppers Drug Mart, Rexall, and others. Workshops are also held routinely in employee worksites. These initiatives elevate patient and physician awareness, improve prescription adherence, drive program enrollment, and sustain patient engagement. They also reinforce to the participating pharmacy staff how simple and rewarding it can be to engage patients and improve their disease state therapy. This approach is game changing."
PharmaSmart, headquartered in Rochester, NY, USA, currently serves more than 6000 locations, including retail pharmacies such as, Wal-Mart Canada, Safeway Canada, Coborn's, Loblaw's, Roundy's, Smart Med Rx, Leader, Good Neighbor, Le Groupe Jean Coutu, Shoppers Drug Mart, Rexall/Katz Group, Zellers, Sobey's Lawton's, Astrup Drug, Winn Dixie, Big Y Foods, and other fine pharmacies. PharmaSmart also serves major worksites, military bases, hospitals and medical clinics. For more information visit the company's website at http://www.pharma-smart.com or contact Corporate Communications Mary Ann Rutkowski at (800) 781-0323.
# # #