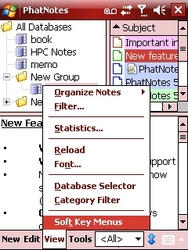 PhatNotes provides powerful note-taking and organizing features for both Windows phones and Microsoft Office Outlook
Las Vegas, NV (PRWEB) April 2, 2009
PhatWare Corporation, a leading provider of software products and professional services for mobile and desktop computers, announces today the release of PhatNotes 5.4, the new update of the company's award-winning notes organizer software for Microsoft Windows-based desktop computers and Windows Mobile smartphones. PhatNotes 5.4 is available in two editions: PhatNotes and PhatNotes for Outlook.
The new version of both PhatNotes editions allows sending SMS messages directly from the application when used on a smartphone and provides improved compatibility with the latest models of Windows Mobile phones. PhatNotes now allows users to either dial a telephone number embedded in a note or send a SMS to it. The software also enables users to send selected portion of a note via SMS.
"PhatNotes provides powerful note-taking and organizing features for both Windows phones and Microsoft Office Outlook," said Steve Hegenderfer, group product manager of the Developer Experience Team in the Mobile Communications Business at Microsoft Corp. "PhatWare's application, built on the Windows Mobile platform, provides mobile professionals with added value and convenience while on the go."
PhatNotes desktop software has also been updated to improve its compatibility with Windows Vista. Further, PhatWare has improved synchronization between the mobile and desktop versions, reducing the number of duplicate items created when combining device and desktop notes.
PhatNotes, a winner of Smartphone and Pocket PC Magazine's "Best Software Award" in the Notes category for eight consecutive years as well as other industry awards, is one of the most popular Pocket PC and Smartphone notetaking applications on the market. PhatNotes allows users to create notes and organize them by type, subject, creation, and modification date. The software provides powerful text search with regular expression support, document security and email capabilities.
PhatNotes for Outlook includes the simplified version of PhatNotes for both Windows Mobile Standard and Professional or Classic devices. It does not include the desktop software which is replaced with Outlook notes synchronization software that supports ActiveSync 4.5 or later on Windows XP and Windows Mobile Device Center 6.1 on Windows Vista.
PhatNotes Availability and Pricing
PhatNotes 5.4 is available now at the list price of $39.95, while PhatNotes for Outlook 5.4 is priced at $19.95. Free 30-day trial versions of PhatNotes and PhatNotes for Outlook can be downloaded from the PhatWare web site at http://www.phatware.com/phatnotes. Existing users of the corresponding editions of PhatNotes 5.x can upgrade to the latest version free of charge.
About PhatWare
Founded in October 1997, PhatWare Corporation is a leading provider of easy to use powerful software products and professional services for the mobile and desktop computing marketplace. PhatWare specializes in handwriting recognition, digital ink, note taking, and database and network management software development. The company exclusively manages development, support and distribution of ParaGraph CalliGrapher and PenOffice handwriting recognition products. PhatWare Corporation is a Microsoft Gold Certified Partner, Windows Embedded Partner and Microsoft Tablet PC Premier Partner. To learn more about PhatWare, visit http://www.phatware.com.
PhatWare is a registered trademark of PhatWare Corp. Other product, company, or service names mentioned herein are the trademarks of their respective owners.
# # #