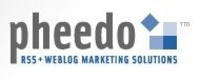 Pheedo allows us to provide our clients with a highly effective new marketing vehicle within the distributed media environment
OAKLAND, Calif. (PRWEB) July 15, 2008
"RSS has already proven that it can exponentially change the way ad content is distributed and consumed. Content is moving beyond the website into widgets, start-pages, RSS readers and social environments. Brand marketers can no longer expect users to come to their micro-site. Distributed media is the new micro-site," states Bill Flitter, CEO of Pheedo. "Marketers expect effective and efficient measures on their media campaigns and Pheedo's FeedPowered Analytics Dashboard is an important next step in the evolution of distributed media ROI analysis. Now ad content including videos, podcasts, press releases, whitepapers and the like can be tracked anywhere, at any time with distributed media analytics technology from Pheedo."
Advertisers can rely on Pheedo's advanced on-demand FeedPowered™ Analytics Dashboard to gain a deeper understanding of user behavior including post-campaign activity. Dashboard features include:
Active User Analysis - Track the number of feed subscribers and feed subscription growth trends. Content Engagement - Track the number of views and clicks on editorial items. Determine which content is most popular with your readers. Track interaction rates to social media environments like Digg, Reddit and facebook. Advertising Stats - Monitor ad impressions, clicks and CTR on feed content ads. Social Media Distribution - Track the consumption points where subscribers are receiving and interacting with the content. RSS Subscription Page Optimization - Page dedicated and optimized to increase RSS subscribers. Subscription Options - Enable readers to subscribe to RSS feeds via email. RSS/Email subscribers and actions are tracked. Feed Management API - Create and update settings, and export data via an API. "Pheedo allows us to provide our clients with a highly effective new marketing vehicle within the distributed media environment," said Howard J. Sewell, President of Connect Direct Inc. "The Pheedo platform provides a unique engagement map that enables our clients to interact with prospects, customers and partners in a more meaningful dialogue within a social media setting. We can track new subscriptions to our clients' feeds and follow the activity of those subscribers, gaining a clear measurement of the impact from our clients' advertising spend, an impact that will continue to resonate well beyond the initial response."
About Pheedo
Pheedo, the largest distributed media advertising network, maximizes advertisers' ROI through its proprietary RSS ad serving technology. Everyday, Pheedo connects advertisers to millions of content hungry readers. The Company helps top tier publishers maximize the value of their RSS feeds. Its pioneering efforts and advanced optimization technology have resulted in triple-digit revenue growth for many top tier online publishers. Publishers and advertisers benefiting from Pheedo's new kind of profit driven advertising services include The New York Times, CMP, Wired, Gawker Media, Ford, Avenue A, ESPN, Dell, Microsoft and Cisco. To learn more about Pheedo, please visit http://www.pheedo.com