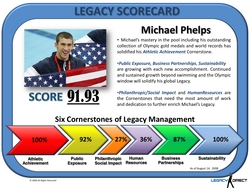 New York, NY (PRWEB) August 18, 2008
The Legacy Scorecard compares Olympian against Jeter, Manning & Jordan.
WHAT:
What makes great? What makes an incredible athlete an indelible icon? Building a meaningful and enduring legacy starts with athletic prowess, but extends well beyond those achievements. The athlete's brand is ultimately built, enriched and protected through proactive achievement across an array of life endeavors. Olympic swimmer, Michael Phelps, has garnered global attention for his gold medals and world records. How well is Phelps building the foundation for a legacy that lasts beyond the Olympic arena? How does his compare against the established legacies of superstars Derek Jeter, Peyton Manning, and Michael Jordan?
WHERE:
Legacy Direct measures Michael Phelps' legacy using a new proprietary scoring system based on six Legacy Cornerstones to determine where he presently stands, and where there's room for improvement. Phelps, with his Olympic quest, has caught the eye of fans everywhere and especially marketers and sponsors his scorecard indicates that raising the visibility of his philanthropic efforts will go a long way towards sustaining his legacy for years to come.
WHY:
The Legacy Scorecard is a leading edge measurement tool for the elite in sports and entertainment and their sponsors who aspire to be a part of redefining the standards for a lasting legacy. For athletes, a strong positive legacy translates to deeper trust, higher influence and greater commercial value. For sponsors, it helps maximize their investments, minimize risk to their brand, and ultimately create greater affinity between the consumer and the associated brands, which in turn sells products.
WHO:
Legacy Direct, is the leading legacy management resource for the elite of sports and entertainment who are committed to elevating the standards for best in class. Legacy Direct, a Rockefeller affiliated company, helps clients clarify what they stand for and leverage their celebrity into security and positive change for the business initiatives and philanthropic causes they become involved with.
INTERVIEW AVAILABILITY:

Mark Rockefeller. Mr. Rockefeller is a 4th generation member of the Rockefeller Family and is actively involved in numerous philanthropic and enterprise development projects. He is Co-founder of Legacy Direct along with its Founder and CEO, Ken Brenner.
Kathleen Hessert. Legacy Direct's Lead Legacy Advisory Consultant and President of Sports Media Challenge, a consulting and training company specializing in reputation management and online word of mouth marketing and measurement. Clients have included NFL and SUPER Bowl MVP's Peyton and Eli Manning, NBA super star Shaquille O'Neal, NY Yankees Captain Derek Jeter and NASCAR's Jeff Gordon and Kasey Kahne as well as top tier collegiate programs like the Universities of Texas, Tennessee, Notre Dame and Penn State.
Contact: Kathleen Hessert | 704.906.3600 (cell) | khessert @ sportsmediachallenge.com
Legacy Direct The preeminent resource and trusted advisor for legacy management to the world's growing community of elite professionals in the sports, entertainment and lifestyle industries. Legacy Direct is located at 30 Rockefeller Plaza, NY, NY.
Sponsor Direct A Sister company to Legacy Direct and also Co-Founded by Mark Rockefeller and Ken Brenner, http://www.sponsordirect.com, is the leading sponsorship solutions company delivering web based sponsorship management, evaluation and measurement tools and sponsorship development to blue chip clients.
###