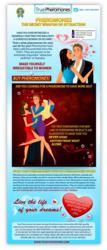 Yes this stuff works! In case you have any doubt in your head, then allow me to remove it. I've received so much attention while wearing just a few drops of True Instinct.
(PRWEB) January 30, 2013
True Pheromones has just announced they are offering a 25% off discount on all their pheromones for men. If you're wondering how unappealing guys get beautiful ladies by their side, it's all thanks to the essence of Pheromones. They have been proven to be the "attraction switch" in men to attract women.
True Pheromones is giving the discount on a number of men pheromones such as True Instinct, True Alpha, True Jerk, True Love, True Opener, True Communication, True Charisma, True Radiance, True Trust, True Essence and The Gilroy. Men who use True Pheromones are seemingly irresistible to women as soon as they walk into the room. These products either come as a scented spray or unscented oil.
True Pheromones products produce a feeling of safety, security and trustworthiness. It makes women feel that men are more approachable and more open to conversation with them. Furthermore, when men apply pheromones, women see the wearer as friendly, caring, loving and thus sexually engaging. These products tend to give an alpha male persona with a very calm and peaceful personality. Men can tremendously lift a woman's spirits, quite possibly reduce left over PMS symptoms and improve awareness with these pheromones.
The effects of True Pheromones products tend to last for 8 to 10 hours. Simply, because of its strong and slow release, there is no need to apply the pheromone again in the day and it is advised not to do so. Before anyone uses these products, they should carefully read the instructions. Also, start using the product with as little drops as possible and slowly increase the quantity to find the best dose.
True Pheromones manufactures all of its products with top quality materials and guarantee the users of the products effectiveness. They are so confident in their product that they provide a full year to evaluate the product. This implies that one can take 365 days from the moment they receive their order to see whether the products actually work for them or not. In the event that a person is unhappy with the success of the pheromone product/s they can simply send it back. They have a zero questions asked policy and they provide you with a full refund on that item.
A satisfied customer said, "Yes, this stuff works! In case you have any doubt in your head, then allow me to remove it. I've received so much attention while wearing just a few drops of True Instinct. Don't over apply or you will be negatively affected, that is how strong this stuff is."