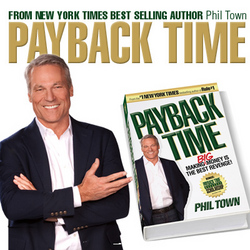 There is no excuse for anyone not to learn the skills necessary to consider taking control of their own investments.
Atlanta, GA (PRWEB) March 2, 2010
Phil Town, financial advocate and #1 New York Times bestselling author of Rule #1, announced the launch of a new venture that includes a new website filled with free resources and tools, his own cable television show scheduled to air this spring, and a series of both live and online workshops, all based on the investment strategies described in his new book, Payback Time. Payback Time has already racked up enough pre-orders to have hit #1 on the Amazon.com Bestseller list.
Town's second book explains the strategy of "stockpiling," which has been used by successful investors from Warren Buffett to Carlos Slim, and describes methods to identify and value what Town terms "wonderful companies" with the goal of buying them at a significant discount to their intrinsic values. Payback Time, in combination with the new educational enterprise, supports Town's investor revolution, which is designed to encourage individuals to consider taking back the management of their investment capital from mutual funds, many of which are, in Town's view, too highly-loaded.
Town's investor revolution starts with a national rollout of his two-day Payback Time Workshops, planned for early this summer. At the workshops, Town and other investment education coaches will educate students on the strategies covered in his new book. According to Town, "There is no excuse for anyone not to learn the skills necessary to consider taking control of their own investments. By the end of a Payback Time Workshop, every attendee should understand that is it not necessary to invest in high load mutual funds, and that it's possible for them to learn how to manage their own investments."
In order to make the investor revolution accessible to the general public, Town is offering free general admission to attend his two-day workshops to anyone who buys his new book. Included in each book is a scholarship that entitles the purchaser and a guest the opportunity to attend the workshop tuition free. To validate their scholarships, book purchasers must register at PaybackTime.com to receive their Scholarship ID, which is required for access to the workshop events. Registration to the website provides members with access to an array of complementary and premium resources available on-demand, including:

Complimentary online classes, like "Finding Wonderful Companies."
Access to stockpiling tools and other calculators, including ready-to-use calculators designed to help you use the Payback Time methodology to estimate a company's value.
Other free resources include educational articles about the potential advantages offered by a Berky account, a list of recommended websites, and pertinent case studies.
A complimentary subscription to The Payback Times, an e-newsletter packed with market news and updates.
A schedule of Payback Time workshops scheduled to roll out summer 2010 in major U.S. cities. The workshops will be taught by a team of trained Payback Time instructors.
An opportunity to buy the Payback Time book directly from the website.
With the creation of this new website to deliver Town's message, the combination of the Payback Time book, workshops, classes and toolsets represent an educational platform that strives to put the responsibility of investment management back into the hands of the small individual investor.
###