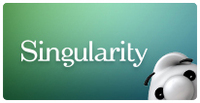 This is an incredible combination that provides tremendous benefits for both businesses
Philadelphia, PA (PRWEB) July 21, 2009
Singularity Design, an award-winning boutique interactive agency with clients across the U.S., has been acquired by the strategic media planning agency Communications Media, Inc. (CMI).
Founded in 1995 by Wharton alumnus Jeff Greenhouse, Singularity began as a mostly solo venture serving the likes of Omaha Steaks, Covad Communications, the University of Pennsylvania, and BizRate. From 2004 to 2009, the agency emerged as a rising star in the world of interactive marketing, rapidly expanding and winning more than a hundred design and marketing awards.
In 2008, Singularity expanded into its current office in 8 Penn Center in Philadelphia, opposite the Comcast Center. In the same year, the agency was named the 30th fastest growing privately held company in the annual Philadelphia 100® list compiled by the Entrepreneurs' Forum of Greater Philadelphia, the Philadelphia Business Journal, and the Wharton Small Business Development Center.
Communications Media, Inc. is familiar with growth and the delivery of high quality services. CMI was founded 20 years ago by media veteran Stan Woodland. In those 20 years it has grown to more than 50 employees and three office locations--in King of Prussia PA, Philadelphia, and Manhattan. In the words of CMI's Stan Woodland, "This new relationship with Singularity instantly expands our strategic media planning capabilities to include a full range of digital and interactive design offerings."
Greenhouse will continue to run Singularity as its President, and Singularity will continue to operate from its Center City Philadelphia office as a distinct business unit. The agency plans to expand its service offerings on the strength of the proven media planning expertise of CMI and the media buying expertise of CMI's sister company, Compas, Inc.
"This is an incredible combination that provides tremendous benefits for both businesses," says Greenhouse. "This will allow Singularity and CMI to bring a full set of complementary services to our clients without skipping a beat in terms of our dedication to the highest levels of creative and technical quality. Additionally, the way CMI cultivates both its internal and external relationships shows that we have really found a group of kindred spirits."
Singularity's services range from web design and web application development to advergames, social marketing, viral marketing and website analytics. The agency's clients include Kensington Computer Products, U-Store-It, Seneca Foods, The University of Virginia, Fiskars Brands, Service By Air, The Wharton School of the University of Pennsylvania, and the Mid-Atlantic Dairy Association.
About Singularity Design
Singularity Design is an award-winning interactive agency that develops compelling digital strategies for inspiring brands. Singularity merges award-winning creativity with consumer insight to establish a strong emotional connection between the consumers and brands.
For more information about Singularity, including its creative portfolio, visit http://www.SingularityDesign.com .
About Communications Media, Inc.
Communications Media, Inc. (CMI) is an advertising media and promotion planning organization focused primarily on the pharmaceutical and related healthcare industry. CMI develops, implements, and evaluates non-personal professional and direct-to-patient media strategies--including interactive--for its clients that are designed to produce the highest possible return on the applied promotional media investment.
For more information about Communications Media, Inc. or Compas, Inc., visit http://www.cmimedia.com.
# # #